2011 Ford Edge: A Chunky Monkey with Reflexes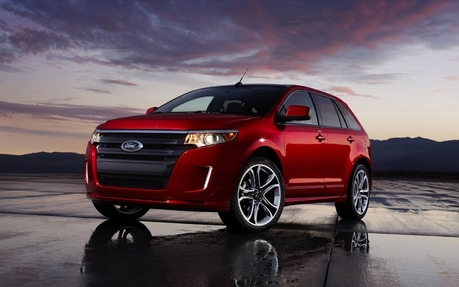 When I graduated from the venerable, attractive, and ridiculously expensive University of British Columbia, it was with an undergraduate degree in English Literature clutched within my left hand. Having consumed innumerable books ranging from mind-blowingly, life-changingly good to Ondaatje levels of bad, I like to think that I got pretty good at following a plot, no matter how obscure it got. Little did I know that that skill would serve me so well after graduation.
Because believe me, you better have a good nose for the plotline when you're driving a 4,460 pound crossover with "Sport" emblazoned across the liftgate. Crushing the scales beneath a curb weight that's a wee bit heavier than previous Edge models, the Sport model at least benefits from the fitment of the equally new Mustang's 305-horsepower V6. Displacing 3.7 litres, the larger engine (the rest of the Edge line is powered by 285-horsepower 3.5L V6s) is paired with the same manumatic V6 as Mustang buyers get, and the result is a surprisingly enthusiastic powertrain. Feeling similar to Nissan's 3.5L V6-powered Murano, the Edge's accelerative properties seemed to be imbued with some degree of alacrity, and I never found myself wanting for power during passing and merging maneuvers. 
Of course, getting a lot of weight to move forward with some verve doesn't take a rocket scientist (although they too have experience with this), but whomever was in charge of the big, burly crossover's brakes and handling might have been one. After all, getting this much mass to stop and turn as quickly as it does takes the work of a more intelligent man than myself… then again, as the aforementioned Arts degree may indicate, such a statement may not rule out much of humanity. In any case, both the brakes and chassis of the Edge Sport should be heaped with praise for their amazing ability to turn this almost 4,500 pound crossover into a lithe, almost nimble vehicle. Stopping in what feels like an impossible short distance, the new braking system (which includes everything from new pistons to bigger pads to bigger rotors) makes the most of the massive footprints of the 265/40R22 Pirelli Scorpion tires, while the suspension tuning has been obviously tuned to make the most of the low sidewalls and massive wheels. Riding with what I would call a sure-footed, positive ride, it's not the softest vehicle on the road, but it does quell irregularities and bumps surprisingly well given that each corner is saddled with somewhere in the neighbourhood of 100 pounds' worth of unsprung weight thanks to those huge wheels and tires.
Of course, the upshot of all this is that from nearly any angle, the new Edge Sport looks appropriately sporty. 22" wheels and massive tires have that effect. However, there are a couple angles from which the sporty atmosphere gives way to a portly one. Slight revisions to the rear end keep the crossover's svelte rear flanks in check, but a heavily hacked front fascia adds an almost ridiculous amount of visual weight to front bumper. Looking like it's capable of devouring even the largest of Audi's imposing grilles for breakfast; the massive tri-bar-inspired, waterfall-esque proboscis is at least painted a somewhat less garish shade of flat black on the Sport model, while other Edge models make do with acres of faux chrome.  
Inside, however, it's as if the Edge was designed by an entirely different group of people; a group of people for whole garish isn't even in the dictionary. With a steering wheel, dashboard, and gauge cluster lifted from the current interior design language of Ford sedans, the two large, well-upholstered captain's chairs in the front half of the Edge's cabin are quite pleasant places to pass the time. While your passenger marvels at the inductive touch-controlled centre stack that's nearly bereft of traditional buttons, you as the driver can enjoy playing with the variety of gauge modes and information readouts offered by the mostly-LCD screed gauge cluster. Should that ever get boring, though, you may start to notice a few other things… like the steering wheel. Although it definitely looks good, the silver plastic sections seemed a little unevenly finished; with some areas appearing more glossy and silver than others. Likewise, the leather that encases the steering wheel rim feels a little last-decade, as do some of the trim pieces on the dashboard on door. Also, the new MyFord Touch infotainment system, although cool, seems to be lacking a few much-needed gigahertzes in the processor department, and it can be regularly caught lagging a few seconds behind your inputs. Thankfully, none of your passengers will be noticing these things as they're sure to downright stupefied by the ridiculous amounts of interior space than abounds throughout the cabin, and the optional, but impressively gigantic sunroof. 
So, does this behemoth really deserve to be called a "Sport" anything? Yes, an incredulous as that seems, it does. Quick to respond to inputs and surprisingly spry, it's definitely no slouch. However, that's not to say that this Edge doesn't have some rough ones. The interior doesn't seem to be quite as good as we've come to expect from Ford lately, and the bodystyle is almost as polarizing as Nissan's Juke (almost!), but it is a vehicle that's incredibly well suited to its market. Capable of tackling everything from the morning commute to weekend warrior-inspired trips out of town with equal aplomb, it does precisely what you expect of a good mid-size sedan, albeit with a bit more cargo capacity. So, in an effort to demonstrate that those many years of expensive post-secondary English Literature education weren't wasted, perhaps I should close by saying that the Edge is much like a particularly well-liked piece of fiction in that it sits between the excellent Fusion (but smaller) and almost perfect (but bigger) Explorer for most would-be buyers in that it is, as Goldilocks said, just right. 
Test drive report
Test model

2011 Ford Edge

Trim level
Sport AWD
Price range
$29,549 – $45,049
Price as tested
45 049 $
Warranty (basic)
3 years/60,000 km
Warranty (powertrain)
5 years/100,000 km
Fuel economy (city/highway/observed)
12,2 / 8,8 / 13,6 L/100km
Options
N/A
Competitive models
Hyundai Santa Fe, Mazda CX-7, Mitsubishi Endeavor, Nissan Murano, Subaru Tribeca, Toyota Highlander
Strong points

Interior spaciousness
Surprisingly good performance
Overall well-rounded package

Weak points

Would be nice to see some different grill options

Editor's rating
Fuel economy
Value
Styling
Comfort
Performance
Overall