2012 Mini Cooper S Countryman: A Moke; Almost.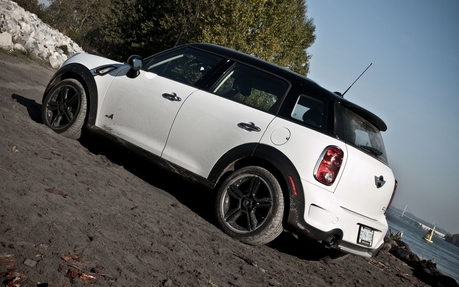 In the late fifties, Sir Alec Issigonis, the designer of the game-changing Mini, had his sights set upon an unlikely British icon: the Land Rover. Lured in by the various lucrative military contracts Land Rover had been awarded as a result of their stunningly practical Series I, and later, Series II and IIA four wheel drive utility vehicles, Issigonis figured that his unique, and equally practical Mini platform could be put to similar use. By 1959, BMC had come up with what they called Project Buckboard; a classified military vehicle that would, in the face of nearly complete military failure, enter the civilian market  as the Mini Moke by 1964. Sparingly built and endowed with identical running gear as the bog standard Mini, the Moke Jeep-like body hinted at off-road capability that it's tiny wheels and low ground clearance simply couldn't live up to, but early marketing material made much of the spartan vehicle's light weight; showcasing four soldiers actually carrying the Moke over otherwise insurmountable obstacles. But, shortly before the Moke's demise, BMC took a second look at the Moke and reconsidered the vehicle, eventually realizing that perhaps four wheel drive would be an acceptable solution. Mounting a second transverse, 1000 cc engine and transmission in the rear of the vehicle, just a few four wheel drive Mini Mokes would ever see the light of day due to the pure and unadulterated stupidity of the notion, but the creation would, with decades' worth of evolution of development, finally give birth to a properly good idea: the Mini Cooper Countryman.
Now, I had already been introduced to the Mini Cooper Countryman in its most basic form just a few months, and wasn't looking forward to the reunion. Lethargically slow and afflicted with a giant thirst, it wasn't my idea of a great car... but this one distinguished itself right off the bat courtesy of the visual cues that signified the all wheel drive system and turbocharger that lay beneath the white bodywork. Although the changes may be limited to the front and rear fascias, the differences are as apparent as they are welcome. Gone is the grouper mouth and horizontal slats of the naturally aspirated car, replaced by an admittedly oddly shaped grille (the best description I heard was that of a very small mouth overshadowed by a very large moustache) and a lower valance that's festooned with ductwork, honeycomb grille material, and fog lights. Out back, a pair of exhaust tips flanked by faux air ducts liven things up. Add in the colour keyed wheels, and you have a car that doesn't just look like a larger version of the normal Mini, but rather one that looks purposeful.
Which is befitting this particular car, because once equipped with the fantastic All4 all wheel drive system and turbocharged engine, the Countryman is a car transformed; instantly forming a perfect matrimony of Mini's legendary driving dynamics with an all-weather, all-road confidence that no previous Mini has enjoyed. A far cry from the old "let's just stick another engine in it" mentality that brought forth the bizarre twin-engined Moke prototypes, the All4 system is unique unto itself. Capable of shuttling up to 50% of the available power to the back axle as needed, the systems electronics are tied in to the digital stability control system; making it both simpler, and faster to respond than its parent BMW's xDrive system. In operation it's not quite as transparent as the BMW system, but then again, you'd be hard pressed to find any all-wheel drive system that was truly invisible when applied to a wheelbase this short. No, you can certainly feel the clutch pack feeding power to the rear as needed, but it almost works to reaffirm your confidence in the system's effectiveness. And effective, it is. Rolling into the throttle around highway on ramps and cloverleafs, it gives the car an incredible amount of poise. Long after I suspected that the front end would wash out under the duress of the Countryman's 3,252 pounds, I found all four of the car's quite diminutive tires sliding ever so slightly outward; a testament to its inherent neutrality. And in city traffic, the All4 system allowed me to fully appreciate the torquey nature of the turbocharged engine. Where there would have been little more than tire spin and torque steer, there was only the pleasant sensation of all four little tires digging in and hurling the car down the block, an acoustic fury of engine backfires and blow off valve activation only adding to the drama.
But, just as the Moke struggled with inclement conditions, so too does the Countryman. Possessed of a demonic stability control system that stalwartly refuses to admit defeat (perhaps due to its entanglement with the All4 system), the car resolutely refuses to spin a wheel at low speeds. Sure, you can convince it to step out with serious assistance from Mr. Newton's laws, but simple power-on oversteer is quite simply not permitted. Now, although that might not sound like a big deal, it can make getting a clutch-equipped version of the big Mini off a slick hill pretty tough, as the DSC and Traction Control systems kill wheelspin and simply cause the engine to stall. Try more RPM's, and the result is worse. I discovered this during the photoshoot, as the Mini was temporarily stuck on the flat sandy beach until I discovered that it wanted finesse where I was previously attempting ham-fistedness. It won't be a problem for 90% of Countryman owners out there, and hopefully there is a solution locked away somewhere in the annals of the car's computer system, but it could be a concern for those would=be buyers that often find themselves faced with steep, slick obstacles on a regular basis... like a snowy, sloped driveway.
But, excepting that, it is quite a great automobile. Definitely one of the more fun five door hatchbacks on the market, it's unique in a way that Mini enthusiasts will certainly appreciate, but tempers that flair with four real doors and a slightly more reasonable footprint. I wouldn't hesitate to take this car on nearly all my expeditions, be it on long distance road trips down to Southern California in the summer, or up to Whistler in the dead of winter. Yes, there are some compromises, in the form of the overactive electronics, buzzy engine, busy interior, and firm ride, but the benefits certainly seemed to outweigh the downsides, at least in my short time with it. And in that regard, I suppose it's nothing like the Moke of old. 
Test drive report
Test model

2012 MINI Countryman

Trim level
Cooper S All4
Price range
$27,850 – $34,400
Price as tested
34 400 $
Warranty (basic)
4 years/80,000 km
Warranty (powertrain)
4 years/80,000 km
Fuel economy (city/highway/observed)
8,1 / 6,3 / 9,7 L/100km
Options
N/A
Competitive models
Audi A3, BMW X1
Strong points

Great drivetrain; every Mini should be AWD!
Sticks like glue
Decent space inside
Good fuel economy

Weak points

Doesn't like starting on slippery surfaces
Still too busy inside
Could use a bit more sound deadening

Editor's rating
Fuel economy
Value
Styling
Comfort
Performance
Overall