2012 Infiniti FX35 Limited Edition has quite an effect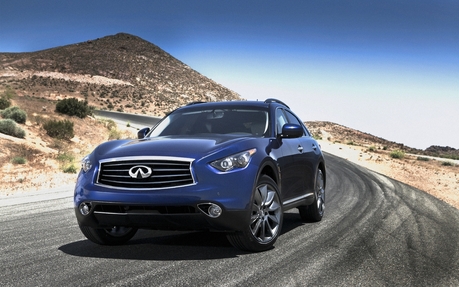 It's a topsy-turvy world we live in, that's for sure. With Acura recently breaking the news that they'll be bringing an all-new Civic spin off to the American market, BMW announcing the production of their first-ever front wheel drive car, and Lexus considering the production of yet another halo product, it's as if manufacturers are intentionally throwing convention to the wind in their ever-increasing desire to chase new niches. And while many of these moves aren't exactly music to the automotive enthusiasts' ears, there is one company that seems to be doing a pretty damn good job of distinguishing themselves: Infiniti.
Having truly burst onto the scene with their wildly successful G35 coupe and sedan, Nissan's luxury brand has been hard at work convincing the car buying public that they're the heir apparent to BMW's cast-off title of builders of the ultimate driving machine. Combining tried-and-true parts like conventional limited slip differentials with techno-wizardry like their ATTESA-ETS all-wheel drive system, they've managed to deliver a suite of vehicles that are as pleasant to drive as they are to be driven in. And the FX35 Limited Edition is no different.
But what makes a Limited Edition, you ask? Well, for starters, the colour. Called Iridium Blue, every FX35 Limited Edition will wear the same exclusive hue, just as they all will roll upon the same 21" grey turbine-inspired wheels. Add in the dark-tinted side vent adornments, headlight buckets, and graphite-finished roof rack, and the end result is a crossover that looks, to my eyes at least, pretty damn good. Admittedly, I've never really had occasion to truly look at an FX35 until this one landed in my driveway, but the unique styling of the wheels and the dark blue paint really works wonders for the FX and makes it look substantially more upscale. That being said, there's no getting around the polarizing effect it's slightly odd proportions have on the public, and the big blue crossover did fall victim to its fair share of derisive remarks from certain "friends." Additionally, it's worth pointing out that if my tester is to be considered a benchmark for the model, a potential FX owner would do well to make friends with their favourite automotive polish and wax. Although the paint may look great, I'd wager that it's quite soft, and as such seems to be particularly prone to rock chips, scratches, and other abrasive effects. However, damage like that is something that a caring owner can easily prevent, and a quick coat of wax made short work of the majority of even my well-used press vehicle's scars. And since there's only going to be 75 of these particularly blue crossovers made available to the Canadian public, it would be in any owner's best interests to protect their investment!
Inside, the Limited Edition's features are a little more difficult to spot. Consisting of aluminum pedal trim and blue piping as well as some included, but typically optional extras, the Limited Edition's really not too far off the already impressive pace set by the standard FX35. Tall, with sporting interior appointments, it's a cabin that will be familiar to those stepping out of G35s and G37s, albeit with a view that's a couple feet higher from the pavement. But, beyond that, it works and feels almost identical. There are the same great leather textures all over the place, the same beautifully upholstered and cosseting sports buckets, and the same familiar dual-interface infotainment system. Even the hood mirrors the contours of the sedan's platform that underpins it, with the familiar big, slightly domed hood giving rise to a pair of equally familiar sweeping fenders. All in all, it's an incredibly well executed design that carries many of the same cues through from the exterior to the interior, and does so with first-class execution.
But, to my mind, the FX35's real party piece are its manners. I've long considered Nissan's ATTESA-ETS all-wheel drive system to be the absolute pinnacle of sporting four wheel drive setups, and when paired with the FX's slightly larger size, taller ride height, and enhanced all-road capability, I really struggle to find fault with it. Much like the Audi S4 that I fell head-over-heels for a few months back, it instills a sense of confidence that extends beyond the all-conquering capability of something like a Range Rover, and instead makes you feel that it won't simply survive any road in any condition, but rather that it will laugh it off with assured confidence. In fact, I dare say that the more rain, snow, off-camber curves, and road undulations thrown the FX35's way will only result in a bigger smile plastered over the driver's face. Why? Well, because it's just that damned good, that's why. With steering that feels as if it has been lifted directly from the Ginsu-sharp G37 coupe, grip that feels as if it's springing from contact patches measured in acres, and a chassis that could give lessons on composure to James Bond, it just doesn't seem to have a dynamic weak point. And it does all this atop a chassis that can straddle a snowbound road, burn up a forest service road, or comfortably haul four adults and a serious weekend's worth of gear.
Add in the surprising 12.2 litres per hundred I recorded, and the Infiniti FX35 tables a pretty convincing argument for its unique combination of practicality and performance. Not since the Audi S4 have I stumbled across a car so capable of absolutely slaughtering every task one could ask of it, and with the added benefits of a taller ride height, roof rack, and SUV-like interior capacity, the FX finds itself within my top five cars of all time, at least in regards to making a case for single-vehicle ownership. Even compared to many of the most popular European sports sedans, you just don't give up much (or in some cases, anything) in regards to either performance, luxury, fuel economy or build quality, but you gain heaps of practical uses with the FX's slightly larger stature. Which brings me to my final point: although it's easy to look to the FX's odd size, strange proportions, car-based platform, and last-generation GT-R-based all-wheel drive system as indicators that it's just another niche luxury vehicle chasing a market segment measured in the hundreds, it is, in reality, anything but. And you know what? That's totally ok with me. 
Test drive report
Test model

2012 Infiniti FX

Trim level
35
Price range
$53,250 – $65,000
Price as tested
61 900 $
Warranty (basic)
4 years/100,000 km
Warranty (powertrain)
6 years/110,000 km
Fuel economy (city/highway/observed)
13,4 / 9,3 / 12,2 L/100km
Options
Limited Edition
Competitive models
Acura ZDX, BMW X5, BMW X6, Cadillac SRX, Land Rover LR4, Lexus RX, Lincoln MKX, Porsche Cayenne, Volkswagen Touareg, Volvo XC90
Strong points
Weak points

Soft clear coat is damage-prone

Editor's rating
Fuel economy
12.2 litres per hundred is good for a sedan, never mind an AWD crossover!
Value
At just over 61K, there's real value in the Limited Edition... plus you get those awesome wheels.
Styling
Did I mention the wheels were awesome? Blue paint looks damn fine after some care, too.
Comfort
Would get a perfect five if it had a little less road noise.
Performance
It's not a Cayenne Turbo or a blown Range Rover, but for what it is, it's very respectable.
Overall
If you want one car to do it all, this might be it.