Hyundai To Make A Splash At SEMA 2012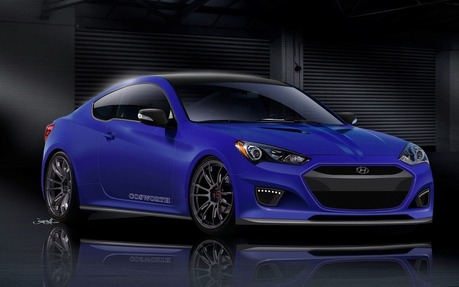 The SEMA show in Las Vegas, Nevada, is traditionally a time for automakers the world over to touch base with the aftermarket companies that serve owners looking to get a little bit extra out of their vehicles - whether that be in the form of additional performance, an dose of high tech equipment, or enhanced styling. Hyundai, a company that has worked especially hard over the past few years in reaching out to a younger audience, will be bringing several special concept cars to the event next week. Three of the most intriguing models in display by Hyundai are the Bisimoto Elantra GT, the Cosworth Genesis Coupe, and the ARK Performance Veloster Turbo.
The Bisimoto Elantra GT introduces the compact hatchback to the tuning expo, and the vehicle has been given a full work-over that manages to squeeze an astounding 600 horsepower out of its 1.8-liter, four-cylinder engine. The gains are realized via the installation of a fully-built 1.8-liter block (including steel rods and forged pistons), special camshafts, a Spearco intercooler, and a Bisimoto turbo kit. Helping put all of that power to the ground are a Bisimoto Action 2MS clutch and a Progress coilover suspension system, and the vehicle wears a Gatorwrap and offers a racing interior (seats, harnesses, roll bar).
Cosworth's contribution to the Hyundai SEMA stable is no less impressive, with the Cosworth CGRS Concept providing a more realistic take on what individual owners might be able to accomplish with the Genesis Coupe. 389 horsepower and 325 lb-ft of torque from the vehicle's 3.8-liter V-6 are made possible by a re-tune, a new intake and exhaust system, and better heat management. CGRS interior trim (including the steering wheel and shift knob), sport seats, a new suspension system, and a full carbon fibre body kit are other enhancements offered by the SEMA entry.
The ARK Performance Veloster Turbo features a nitrous oxide kit, a fresh tune, an ARK Performance exhaust system, and an Air Motion suspension kit with ARK Performance coilovers. The subcompact hatchback's power rating has been boosted to 232 horses and 240 lb-ft of torque, and both the brakes and tires of the Veloster Turbo have been upgraded to better handle this increase in output.