2013 Infinti JX: High-Tech Family Values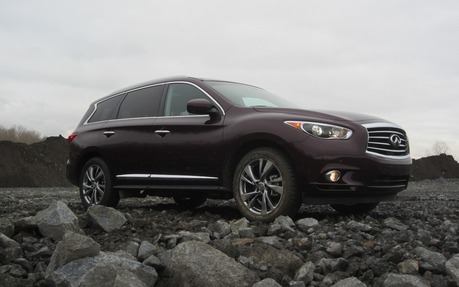 After so many years of emphasizing rear-wheel drive performance - with all-wheel drive thrown in to handle inclement weather - Infiniti has introduced the all-new 2013 Infiniti JX. The JX might at first seem heretical with its front-wheel drive based architecture and definite leaning towards the comfortable, rather than exciting side of the driving spectrum, but looking beyond its drivetrain layout reveals that this seven-passenger crossover is exactly the right vehicle at exactly the right time for the Japanese luxury brand.
The Infiniti JX is poised to scoop up families shopping for a spacious, feature-laden premium people mover that happens to offer one of the most affordable starting prices in the segment. It also doesn't hurt that that the JX has been stuffed to the brim with more high tech equipment than a nuclear power plant's control room.
Big, But Pretty
Try and think of a three-row crossover that could legitimately be described as 'beautiful.' That's ok - we'll wait. Recognizing that the sheer mass of the 2013 JX limited their palette, Infiniti's team of stylists managed to carve out a handsome chunk of sheet metal, glass, and chrome from an unlikely starting point. Especially eye-catching are the vehicle's rear glass, its powerful yet unimposing front fascia, and the curves that break up its size along the entire length of either side.
The interior of the Infiniti JX makes excellent use of the restrained luxury trappings that are a feature of almost all of the brand's vehicles. Our top-spec tester was outfitted with heated leather seats, a great touchscreen navigation system, a heated steering wheel, an enormous panoramic sunroof over the second and third rows, and all manner of other creature comforts. Second and third row bench seating was not quite as cushy as we would have liked, for although the JX offers more leg room than larger rivals like the Buick Enclave, it positions the seats much closer to the floor than is typical for a crossover of its size. The third row - which, like the second folds flat into the floor for carrying longer cargo - is suitable for children.
Safety First At Infiniti
Recognizing that a front-wheel drive platform - even one like the JX's that is available with optional all-wheel drive - will never deliver the driving thrills of a rear-wheel drive vehicle, Infiniti instead elected to load the three-row crossover with a length list of high tech safety options and make that focus its particular point of pride. Our test vehicle's feature list included a blind sport intervention and warning system, a lane departure intervention and warning system, and a system that would automatically brake the vehicle should a potential collision be detected. The Infiniti JX is also capable of maintaining a safe distance between the crossover and the vehicle ahead by pushing back on the throttle and applying the brakes, if desired. All told, these safety features worked very well in concert with each other, and even owners who don't want to have to deal with the SUV's 'interventions' can configure the systems to provide warnings instead of automatically applying the brakes.
Manoeuvring such a hefty crossover into tight garages or through crowded parking lots is not to be taken lightly, and so Infiniti also saw fit to give the 2013 JX equipment such as a top-down camera view that offers a 360 degree video image of the environment surrounding the SUV whenever it is shifted into reverse. This is displayed alongside the rear-view camera's straight-back picture, and it helps considerably when backing up the Infiniti. Should one get too close to an obstacle, or if a vehicle is detected on an intercept course during the back-up process, then the JX can automatically stop itself to prevent a collision.
Acceptable Power And A Good CVT
The 2013 Infiniti JX comes with a 3.5-liter V6 that is rated at 265 horsepower and 248 lb-ft of torque, output that is managed by a continuously-variable automatic transmission. Matched up against the JX's roughly 2000 kilograms of curb weight one can't expect this motor to deliver rocket-like acceleration, but we had no trouble negotiating Montreal traffic with the CVT set to Standard mode. The transmission's Eco feature considerably dampens performance by reducing throttle response, and it allowed us to post fuel consumption of 14.5 l/100 km during our mostly city driving in the crossover. The transmission also comes with Sport and Snow modes.
Excellent All-Around Luxury
The 2013 Infiniti JX is a strong competitor in a segment that for too long has been dominated by domestic vehicles like the previously-mentioned Enclave and the more recent Lincoln MKT. Bigger than the Acura MDX but nowhere near the land monster status of its Infiniti QX cousin, the JX - when fully kitted out with options - is a veritable luxury fortress of practicality, and one that starts at only $44,000.
Don't expect the JX to handle like a G coupe or much smaller crossovers from the brand like the EX, but certainly don't temper your expectations when it comes to comfort or quality, as the JX is well worthy of wearing the Infiniti badge. It's also one of the best looking vehicles in the seven-passenger luxury crossover segment, which adds an extra touch of class to what is a very useful automobile.
Test drive report
Test model

2013 Infiniti JX

Trim level
35 DeluxeTouring
Price range
$44,900 – $54,900
Price as tested
CA$58,400
Warranty (basic)
4 years/100,000 km
Warranty (powertrain)
6 years/110,000 km
Fuel economy (city/highway/observed)
11.5 / 8.5 / N/A L/100km
Options
N/A
Competitive models
Audi Q7, Land Rover Range Rover Sport, Lexus RX, Cadillac SRX, BMW X5, Porsche Cayenne, Volvo XC90, Mercedes-Benz GL-Class, Acura MDX
Strong points

Easy on the eyes
Excellent suite of active safety features
Comfortable interior
Roomy seating
Top-notch systems interfaces

Weak points

Somewhat uninspiring acceleration
Second and third row of seats close to the floor

Editor's rating
Fuel economy
Not great, but what can you expect from such a large vehicle?
Value
The JX is extremely competitive on price amongst seven-passenger luxury crossovers.
Styling
A great expression of Infiniti's styling language.
Comfort
The lap of luxury.
Performance
A heavy crossover that isn't mean to send adrenaline surging through anyone's veins.
Overall
A very impressive family-oriented effort from Infiniti.