Audi confirms the 2014 R8 and the new RS5 Cabriolet for Detroit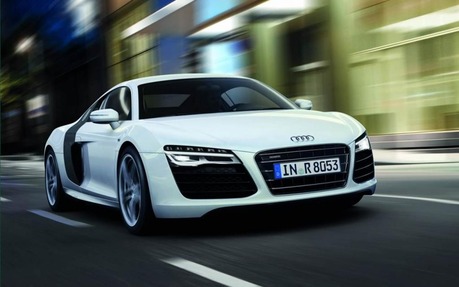 The carbuilder from Ingolstadt chose the Detroit International Auto Show for the North American Grand Premier of their 2014 R8 and 2013 RS5 Cabriolet models.
2014 Audi R8
The sporty Audi R8 Coupe and Cabriolet models received minor stylistic touches to the front and rear sections.
However, the biggest change is under the rear-mounted hood with the addition of the V10 Plus. The three R8 engines now used are:
V8 FSI: 4.2 litres and 430 HP;
V10 FSI: 5.2 litres and 525 HP;
V10 Plus FSI: 5.2 litres and 550 HP.
The V8 model comes equipped with the six-speed manual gearbox while the seven-speed S-Tronic is standard on the V10 and optional on the V10 Plus.
The addition of the V10 Plus helps the R8 reach 100 km/h in a quick 3.3 seconds and attain a top speed of 280 km/h.
2013 Audi RS5 Cabriolet
Presented to the general public for the first time at the Paris international Auto Show last September, the RS5 Cabriolet makes its North American debut in Detroit.
After the RS5 Coupe, Audi now announces the eponymous Cabriolet who also inherits the extravagant subtleties of the Coupe.
The convertible top retracts in a mere 15 seconds, two seconds faster than the closing phase which is possible at any speed under 50 km/hr.
Both the Audi RS5 Coupe and Cabriolet use the powerful 4.2 litre FSI V8 producing 450 horsepower and 317 lb-ft of torque coupled to the automated seven-speed S-Tronic gearbox.
The RS5 Cabriolet reaches 100 km/h in 4.9 seconds and top speed is limited to 280 km/h.