Infiniti QX60 Hybrid A First For The Premium Brand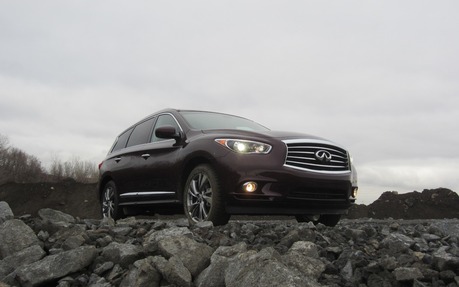 The Infiniti JX, which is a recent addition to the brand's stable, is about to gain a hybrid model.  The 2014 Infiniti QX60 Hybrid (using Infiniti's cross-brand naming scheme for the upcoming model year) will add a second drivetrain choice on top of the 265 horsepower, 3.5-litre V6 that currently motivates every version of the full-size crossover.
The Infiniti QX60 Hybrid will benefit from a 2.5-litre, turbocharged four-cylinder engine that works together with an electric motor to produce 250 horsepower.  Fuel efficiency for the three-row family hauler will increase to 9 l/100 km combined, which is a 20 percent improvement compared to the standard V-6 version of the crossover.  Infiniti has also managed to slip the vehicle's battery pack and other electrical hardware under the floor boards so as to preserve the interior space offered by the SUV.
The Infiniti QX60 Hybrid will join the pre-existing Infiniti M Hybrid (Q70 Hybrid) and the also-new Infiniti Q50 Hybrid (the revised G sedan) as the other electrically-assisted members of the brand.  The QX60 gains the distinction of being the first hybrid SUV ever built by Infiniti, and it could potentially steal sales away from its smaller Lexus RX 450h competitor.