2013 Toyota RAV4: Sugar-Free Candy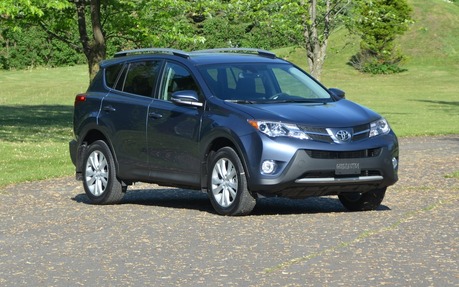 A popular Toyota if there ever was one, the RAV4 has undergone a major makeover for 2013. Some may see a resemblance with the previous generation Honda MDX, particularly with the headlights. And that's not a criticism, since I find the result much nicer at Toyota. The tail end is unique with a horizontal bulge just below the rear window. The style – more contemporary than before – isn't extraordinary, but it isn't unpleasant either. It respects today's standards.
The passenger compartment is cut from the same cloth, which means it didn't knock our socks off, but it also didn't make us want to run screaming either. Most of the materials are good quality, although some of the plastics, including the imitation carbon fibre on top of the console, are very ordinary. During our week-long test drive, some people indicated that they didn't care for the leather-covered sloping part of the dash and its stitching. For what it's worth, I happened to like it. The gauges are easy to consult and their bluish lighting is rather nice once night falls. The buttons are large and easy to locate, which is becoming increasingly rare in this era when safety trumps all.
401 blues
I had the opportunity to drive a RAV4 Limited AWD on the seemingly endless 401 to Toronto and then back again on this same tedious stretch. The seats proved comfortable even after several hours of driving – my bladder, not my back, dictated the timing of my stops. The second-row seats offer excellent head and leg room. The third-row bench features three seats, but I'd wager that you'd have an easier time finding three jurors for a mobster trial than finding three people willing to sit back there. The trunk's low loading height facilitates loading heavy items – plus, its opening is big and the hatch is easy to handle.
The central console isn't too wide so it doesn't encroach on your personal space and the two cupholders were very useful for the trip to Ontario: one for my medium-size coffee (a must!); the other for my cellular phone, pack of gum and small change. Three-quarter rear visibility isn't terrible, but that's become the norm now that cars are built for safety above all else.
The GPS served me well on my trip to the "Queen City," despite the fact that it's not up-to-date. The new highway 30 and its pay station, for example, aren't even on it, and for several kilometres I was driving in virtual nothingness. Furthermore, the latch for the fuel tank flap is hard to reach when seated and the hand brake would have been better as a pedal, as this would have freed up space on the console. That's not to say that there isn't enough storage space – it's just that more is always better.
So long to the V6!
Regardless of the trim level, the RAV4 is powered by a 2.5-litre four-cylinder producing 176 horsepower and 172 lbs-ft of torque. Don't bother looking for the V6 – you won't find it anymore. The LE and XLE have only front-wheel drive while all the others have all-wheel drive. The only transmission available is a six-speed automatic.
During my week of testing the RAV4 in which I travelled more than 1,100 km, I recorded an average fuel consumption of 10.0 L/100 km. On my trip to Toronto, at a nearly constant speed of 118 km/hr, fuel consumption was 8.3 L/100 km. Had I respected the speed limit, the average surely would have been about 7.8 or 8.0 L/100 km. When the cruise control was engaged at 118 km/hr, the transmission tended to downshift too easily in fifth gear and even, from time to time, in fourth, which became irritating over the long haul. Otherwise, it was smooth and at no time did I feel the need to shift gears manually. Given that I had the vehicle in the middle of summer and I drove it exclusively on a completely dry surface, I had no need for the all-wheel drive. However, I'm sure that the AWD will be appreciated in winter. And for more complicated situations, you can lock the drive to transmit the torque equally between the front and rear wheels. What's more, you'll earn back the 2,000-odd dollars you pay for the AWD when it comes time to resell it.
Neutral
There were no surprises – good or bad – on the road. The passenger compartment is comfortable and quiet, and the steering is precise enough to spare you from making frequent corrections on the highway. On the other hand, as is often the case with power steering, it doesn't like to be hurried. In turns, the handling is more than sufficient for the average Joe and the roll is under control. But given that the seats don't offer much support, you quickly lose the desire for spirited driving. In any event, the various traction and lateral stability control systems intervene at the slightest discrepancy. On an icy surface, they'll likely intervene almost constantly.
The RAV4 is a vehicle that is typically Toyota. Nice but not transcendent, its handling is more safe than it is exciting. Of course, it's as reliable as can be. During my week-long test drive, I enjoyed every minute I spent at the wheel. However, I forgot about it instantly once I turned in the keys. But that's just me....
Test drive report
Test model

2014 Toyota RAV4

Trim level
4WD Limited V6
Price range
$23,790 – $31,700
Price as tested
N/A
Warranty (basic)
3 years/60,000 km
Warranty (powertrain)
5 years/100,000 km
Fuel economy (city/highway/observed)
9.3 / 6.8 / 10.0 L/100km
Options
N/A
Competitive models
Chevrolet Equinox, Ford Escape, Honda CR-V, Hyundai Santa Fe, Mazda CX-5, Mitsubishi Outlander, Nissan Rogue, Subaru Forester, Suzuki Grand Vitara, Volkswagen Tiguan
Strong points

Enormous passenger compartment
Well-designed dashboard
Comfortable seats
Very good handling
Proven reliability

Weak points

Zero passion
Limited towing capacity
Uninviting third-row bench
Eco Mode that is unpleasant to use

Editor's rating
Fuel economy
Not bad at all!
Value
With its resale value probably very high, the RAV4 is a vehicle of choice.
Styling
There's no accounting for taste!
Comfort
Comfortable seats, well calibrated suspension.
Performance
We clocked it at 9.7 seconds from 0-100 km/hr. Okay, but not extraordinary.
Overall
The RAV4 lacks that little something to really win people over. But it's still an excellent vehicle!