2014 Audi A6 : Balancing Act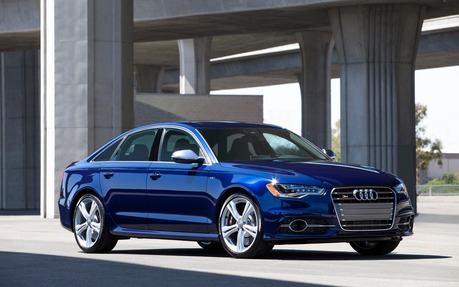 If Goldilocks were to drive an Audi, it would probably be the A6. The A6 is roomier than the A4 and not at cumbersome as the A8, offering a balanced middle ground between the firm's sportier entry-level sedan and its limousine-class luxury liner. It is also priced right between the two, striking a fair balance between luxury and value.
The seventh generation A6 was introduced in 2012 as a 2013 model, and although overall length was slightly reduced, wheelbase was lengthened by 8 cm, which reduced rear overhang and improved the handling. Abundant use of aluminum in the body structure also reduced weight by up to 80 kg depending on the trim.
The A6 is among some stiff European competition including the BMW 5 Series, Mercedes-Benz E Class and Jaguar's XF, however it has the lowest starting price of those makes, at $52,500 (2013). For that price you get the most fuel efficient of the three available powerplants, the 2.0-litre turbocharged four-cylinder. This engine was introduced in 2012 and produces a modest 211 horsepower. It is capable of propelling the A6 from 0 to 100 km/h in just under 7 seconds, while returning an average fuel consumption of 8.7L/100 km, again a decent balance. There are other engines available if you're looking for more performance, and all engines are mated to an eight-speed Tiptronic automatic transmission.
The 3.0-litre supercharged V6, also attached to an eight-speed automatic, pumps out 310 horsepower. It will cost you an additional $7,000 over the four, but it it's an exceptionally smooth engine, and it will chop 1.3 seconds off the 0-100 km/h time. It's also relatively fuel efficient, returning an average of 9.3L/100 km.
S6: the power choice
If all-out performance is your preference, you'll have to dig quite a bit deeper into your wallet and choose the S6. The S6 is accompanied by the sound of a turbocharged V8 displacing 4.0 litres and pumping out a satisfyingly robust 420 horsepower. This same engine in the S8 produces 100 horsepower more, so you have to wonder why Audi didn't use the same tuning in the S6, especially when competing models like the Mercedes-Benz E63 AMG, BMW M5 and Cadillac CTS-V all claim more than 500 hp.
This engine has its twin-turbochargers sitting on top, between the "V", and the intake manifolds are outside the V. This unusual configuration, also used in the M5, reduces turbo lag to almost nil. The turbocharged V8 produces almost as much power as the naturally aspirated, 5.2-litre V10 it replaced, but it is 25% more fuel efficient. Fuel consumption is rated at 9.6L/100 km.
Audi has also incorporated "cylinders on demand", a fuel-saving system also used in the S8 that cuts out four cylinders at light loads on the highway. Cutting four cylinders saves between 5 and 10% on fuel, but it also introduces unwelcome vibration and noise into cockpit. To counter this, Audi incorporated a few sound- and vibration-suppressing technologies. Electronically controlled active engine mounts are used to cancel most of the shaking, and the remaining noise is subdued through the sound system, which uses noise-cancelling technology to emit a sound-deadening frequency, much like sound-cancelling headphones do; the system was, after all designed with the help of Bose. The result is a seamless transition between four- and eight-cylinder operation.
While front-wheel drive versions are available in other markets, quattro all-wheel drive is standard in Canada regardless of which engine you choose.
Unfortunately, although we have been anxiously anticipating the arrival of the 3.0-litre turbo-diesel V6, it has yet to make a presence on this side of the Atlantic. This engine produces 245 hp and claims just 6.0L/100 km.
Interior perfection
Unsurprisingly, the interior of the A6 impeccably finished. For the extra money you'll spend on the S6, you get leather seating with diamond stitching. Available are optional seats with cooling and massage features, and trim materials include aluminum, carbon fibre or wood, or a lavish aluminum/Beaufort wood finish made by bonding black-dyed wood to thin aluminum strips, the layering effect mimicking the pin striping on a suit.
On certain models, Audi offers the S Line sport package, which includes sport suspension. On the S6, firm, adaptive air suspension provides confidence-inspiring compliance and stability at speed. Electric power steering is lightly weighed, as most electrically assisted systems are, but the optional dynamic steering increases effort at speed to an acceptable level and returns satisfying feedback.
Available driving aids include torque vectoring and a sport rear differential, which work invisibly to help steer the car, as well as a multitude of driver assist systems like adaptive cruise control, active lane assist, side assist, night assist (detects pedestrians at night) and park assist.
The Audi A6 is a well-balanced premium sedan, with great performance and respectable road manners, and it is well positioned to hold its ground among its elite European competitors.
Test drive report
Test model

2014 Audi A6

Trim level
S6 Sedan
Price range
$53,500 – $85,500
Price as tested
CA$85,500
Warranty (basic)
4 years/80,000 km
Warranty (powertrain)
4 years/80,000 km
Fuel economy (city/highway/observed)
11.4 / 7.8 / N/A L/100km
Options
N/A
Competitive models
Acura RL, BMW 5 Series, Infiniti M, Jaguar XF, Lexus GS, Lincoln MKS, Volvo S80
Strong points

Excellent fit and finish
Very smooth and efficient V6
AWD standard
Spacious interior
Rewarding handling

Weak points

Infotainment system difficult to use
Options are pricey
S6 is underpowered in its category
Reputedly expensive to maintain

Editor's rating
Fuel economy
Value
Styling
Comfort
Performance
Overall