Infiniti Q50 Eau Rouge Concept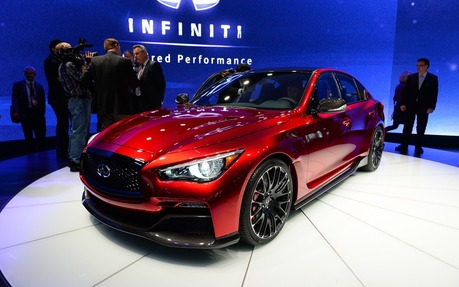 Infiniti has unveiled its Q50 Eau Rouge Concept at the North American International Motor Show in Detroit for the more performance-oriented buyer.
Infiniti says the design of the car includes elements inspired by Formula 1. It's a way for Renault-Nissan to strengthen its partnership with Red Bull Racing in Formula 1 - a collaboration that has allowed both entities to capture the driver's and builder's championship in 2013.
The name "Eau Rouge" refers to the steep slope of the Spa- Francorchamps circuit in Belgium.
Aesthetically, the concept features aerodynamic elements which give it a much more aggressive style including:
- A carbon fiber air intake;
- Side skirts;
- A discreet rear diffuser;
- Roof and mirrors housings in carbon fiber;
- Forged alloy 21-inch wheels.
It's very likely that the production model simply becomes the Q50 Infiniti IPL. The good news is that it likely won't be just another set of bolt-on modifications and a badge.
"If we built this car I would expect it to feature over 500 horsepower and 600 pound-feet of torque," Johan de Nysschen, president of Infiniti said at the show. "The engine we are evaluating for the Q50 Eau Rouge is a big personality, V-cylinder engine with forced induction.