2015 Audi TT: Official Launch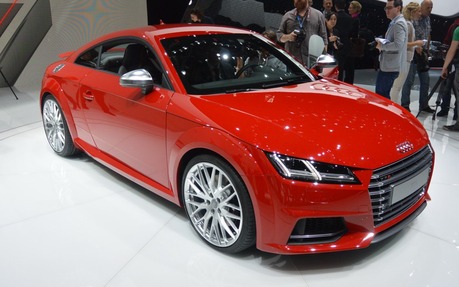 The all-new 2015 Audi TT has been unveiled today at the Geneva Auto Show.
There are lots of changes on the new version. While the overall length is the same (4.18 meters), the wheelbase has grown almost 37 mm. The car is 120 mm narrower, and it stays the same height.
The chassis and all body panels are made of aluminum, which helps bring the weight down almost 50 kg (110 lbs) compared to the outgoing model.
Inside, the Audi TT will use the digital dashboard presented earlier last year. A 31.1 cm LCD screen is located in front of the driver and displays all the important data, from speed and RPM to GPS information. This display is also fully configurable to each owner's specifications. The car features next-gen voice recognition software; simply say a simple command, like "Take me home" or "I want to talk to Bob", and the computer will understand your demands.
The European version of the TT will feature a choice of three engines. A 2.0 Liter diesel engine will send 280 pound-feet of torque to the front wheels, and is coupled with a manual transmission. The little oil-burner wil offer a very low fuel consumption of 4.2 L/100 km, a record in the sports car world. For those more inclined toward a gasoline engine, two choices are offered. The regular TT will feature a 2.0 liter turbo four cylinder developing 230 horsepower, while the TTS will make use of an additional 70 HP, bringing the total to almost 300.
The performance-oriented TTS, with the 6-speed S-Tronic transmission and Quattro all-wheel drive system will sprint from 0 to 100 in 4.7 seconds. For the regular TT, we are talking about 5.3 seconds.
The price (and the exact specs for the north American versions) has not been announced yet, but should be unveiled soon.