The new Subaru Outback bows at the New York Auto Show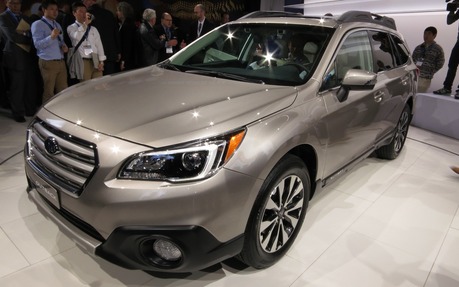 The Outback has been with us its current form since 2009. And as much as Subaru salesmen would like to tell you that it is a completely unique vehicle, it's pretty much a Legacy wagon with a lift kit (that's not a bad thing, mind you). So it was unavoidable that when the Legacy was redesigned, the Outback would follow soon after.
We can see the new Subaru Outback in the flesh for the first time at the New York Auto Show. It looks like the new Legacy wagon, albeit higher and with plastic body cladding. Engine selection is also  the same as Subaru's midsize sedan: a 2.5 liter 4-cylinder Boxer engine (175 HP and 174 lb/ft of torque) and a 3.6 liter 6-cylinder engine with 255 HP and 247 lb/ft of torque.