R8 LMX : Audi's Mothership Fire its Lasers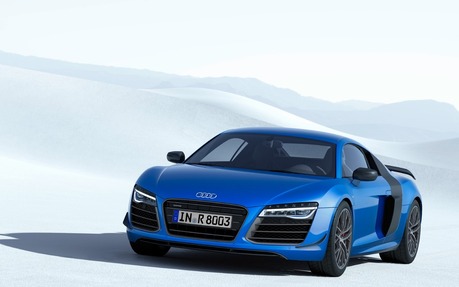 The all-new BMW i8 features a large array of new technologies. One of them is quite brilliant: the laser headlights. While the Bavarian automaker was the first to use lasers to light the road, its arch-rival Audi is also working on a similar technology.
Audi's latest Le Mans racecar, the R18 e-tron Quattro, uses a high-powered version of those headlights. They recently unveiled their first road car available with a similar system, the R8 LMX. It is, in essence, a regular R8 with new headlights. The low beams are regular LED lighting, but as soon as you go over 60 km/h and you engage the high beams, the lasers fire up with the light of a thousand suns. With 5500 Kelvin intensity – the ideal colour for light, since the sun is around 5700 Kelvin, these headlights make contrast easier to see. A set of active cameras and motors are also included, to make sure you don't accidentally burn someone's retina!
The R8 LMX is also equipped with a few other goodies, like a unique metallic blue paint, a fixed carbon spoiler, a black and blue leather interior and a sport exhaust.
Only 99 of these shiny R8s will be made, so if you can afford one, go get it right now!