MINI and Touring Superleggera Build a Sleek Roadster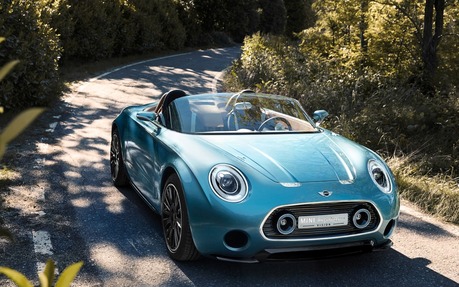 BMW used the Concorso d'Eleganza Villa d'Este to present its one-off concept Touring Superleggera Vision, which combines a typical MINI look with sleek Italian roadster cues. The Milanese coachwork builder Touring Superleggera, established in 1926 and known for various unique vehicles (Ferrari 166 Touring Barchetta, Maserati 3500, the first Lamborghini 350-400GT, and the Alfa Romeo Disco Volante, among others) had the honor of creating the car.
According to the designers, one of the biggest challenges was to find out how to mix the typically British front end and the minimalist, sleek lines of an Italian Coupe. This is no easy task when the original vehicle is a chubby little hatchback!
The car is entirely made by hand, using beaten aluminium panels and various carbon fiber aerodynamic bits. The tail lights are made using LEDs, and are cleverly shaped to look like the Union Jack.
BMW is unusually quiet about the powertrain, but they mentioned that it is an electric vehicle. No performance numbers were given, but I am pretty sure that this vehicle has no chance of seeing production, so this is probably not an issue.
The MINI Touring Superleggera was shown at the Concorso d'Eleganza Villa d'Este, and will surely be displayed at various other shows during the summer.