2014 Acura RLX: And to Think They Designed the NSX...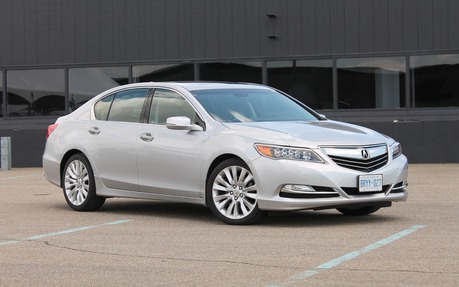 2012 was a big year for Acura. With a tendency to go overboard, Honda's luxury brand launched two concept cars, the NSX and the RLX (at the Detroit Motor Show in January and the New York Auto Show in April, respectively). While the NSX knocked everyone's socks off with its exquisite design, the RLX blew people away with its ugliness. At least it was just a concept, so there were chances that the production model would be a little more dynamic. But as you might have guessed, that is not what happened.
Contrary to the general trend of assigning an X to the name of vehicles with all-wheel drive, the Acura RL had all-wheel drive while its replacement, the RLX, only has front-wheel drive for the time being. A hybrid AWD version is on its way, but this article focuses on the vehicle we tested a few weeks back: an RLX Elite with front-wheel drive.
While the RLX's engineers didn't go wild designing it, it is nonetheless a vehicle with presence, even if only for its "jewel eyes" which definitely stand out from everything else is on the market. Some love them, others don't.
Two screens and dozens of buttons
The interior, which is fully soundproofed, is distinctly more inspired than the vehicle's body. The presentation is serious, the materials are carefully chosen and assembled by people with OCD. The dashboard is user-friendly and while not so long ago Acura kept 850 button factories in business, they must all be going bankrupt now, as most functions are now controlled via a seven-inch touch screen. Up higher, there's an eight-inch screen that displays the GPS and other systems. That said, it's not all perfect. I found the Krell sound system sub-par for Acura's largest sedan. It might have helped if I could figure out how to balance the sound. But whatever you do, don't tell me that it should be a cinch to figure out. In a car, you want everything to be a cinch so that you can keep your eyes on the road and comfortably enjoy your car the rest of the time. And while I'm ranting, I'll also mention that I didn't appreciate having to remove my gloves every time I wanted to enter the car. Normally, you just have to touch the exterior handle for the door to unlock, but with my gloves, it didn't work.
The front seats are deliciously cushy. They offer great support for your entire body, which means the only thing enticing you to stop is going to be your bladder or your stomach. The rear seats are very inviting, too, except maybe for taller folks who will find that headroom is barely sufficient. The trunk is generous in its dimensions and is just as nicely crafted as the passenger compartment. I was almost tempted to crawl in and sleep there overnight. As always, Acura has paid the utmost attention to detail. The rear seatback doesn't fold down to extend the cargo hold, however. There is only a ski flap.
What an engine!
When the RLX gets going, it exudes happiness thanks to its 3.5-litre V6; the same one that purrs within several Acura products. Tremendously powerful and as flexible as a 14-year old Nadia Comaneci, this engine delivers outstanding performance. It pumps out 310 horses at 6,500 rpm and 272 lb.-ft. of torque at 4,500, which is more than enough to create torque effect when you accelerate and swerve from side to side. Including all-wheel drive should rectify this unpleasant situation. The variable cylinder management deactivates three cylinders when they are not needed. The six-speed automatic transmission is more discreet than in the past.
Add all these elements together and you get very low fuel consumption. Despite the wickedly cold temperatures when we tested it, I got an average of 10.7 litres per 100 kilometres. In summer, it could easily drop to 9 or 9.5 litres. Not bad for a car with 310 horsepower and weighing more than 1,800 kilograms—and that was occasionally pushed beyond the limits of reason!
Light on its feet
When you drive the RLX, you would never guess that it weighed 1,800 kilograms. This is in large part thanks to its power, but other factors include the super-solid chassis and the perfectly calibrated suspension that balances comfort with excellent road handling. Also helpful is the Precision All-Wheel Steer system that allows the rear wheels to turn in the direction of the front wheels.
I didn't really see the point of this system when driving on ice, especially since this involved keeping speed down. However, when avoiding an obstruction on super cold but dry asphalt, I came to see the benefits. I almost got the sense that the rear section knew exactly where to go, as though a divine hand guided it on the right trajectory. I don't know whether this system actually enhances road hold at high speeds, but one thing is for sure: it helps with safety. What is more, it contributes to a shorter turning radius.
Despite all this, driving an RLX is not particularly thrilling, mostly due to the steering, which tends to be too soft in the middle and offers poor feedback. The extremely quiet interior is also to blame. The transmission works beautifully for everyday driving but definitely doesn't enjoy being jostled. Even in manual mode, it prefers to switch gears at its own volition. So, forget about inspired shifting.
The Acura RLX is nonetheless a heckuva car. If you want to drive a prestige vehicle without attracting too much attention, the RLX is a great choice. It should also be added to your list if you're looking for a reliable ride, as many of its competitors (including the BMW 5 Series, Mercedes-Benz E-Class, Audi A6 and Cadillac CTS) have yet to master this aspect.
Test drive report
Test model

2014 Acura RLX

Trim level
Elite
Price range
$49,900 – $62,190
Price as tested
62 190 $
Warranty (basic)
4 years/80,000 km
Warranty (powertrain)
5 years/100,000 km
Fuel economy (city/highway/observed)
10,5 / 6,4 / 10,7 L/100km
Options
N/A
Competitive models
Audi A6, BMW 5 Series, Cadillac CTS, Infiniti Q70, Jaguar XF, Lexus GS, Mercedes-Benz E-Class, Volvo S80
Strong points

Discreet style that some people will like
More than enough power
Great P-AWS system
Comfort fit for a king
Moderate fuel consumption

Weak points

Discreet style that some people will hate
Uninspired steering
Torque effect during lively acceleration
Not particularly sporty
Rear seats with limited headroom

Editor's rating
Fuel economy
Impressive considering the car's weight and power
Value
The RLX's reliability compensates for its lack of sportiness
Styling
Other than the headlamps, there's nothing exciting about this car
Comfort
Very comfortable regardless of the materials
Performance
Very, very decent
Overall
Give its body more style and it would be (almost) perfect!