First Images of the 2015 Audi TT Roadster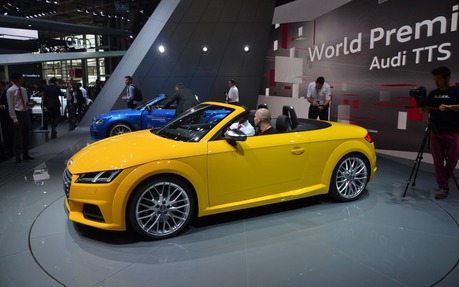 A convertible version of the Audi TT was inevitable. After all, it has been a successful model ever since its launch. As you can guess, this new TT is pretty much similar to the coupe version, except that its hard roof has been replaced by a soft cloth one.
This means that the same turbocharged 2-litre mill can be found under the TT Roadster's hood. In this guise, it develops 230 horsepower, but if you want more, you can always go to the TTS version, which ups the power to 310 horses and 280 pound-feet of torque. They are both equipped with Audi's proprietary Quattro system, and the TTS can go from 0 to 100 in 4.9 seconds.
The new roof is built to be as light as possible: compared to the last generation, it is 3 kg lighter, mainly because it is made using aluminium and magnesium parts. The whole car only weighs 1320 kg.
The Audi TT and TTS Roadster will be shown for the first time at the Paris Motor Show.