Audi TT Sportback Concept: The Stretched TT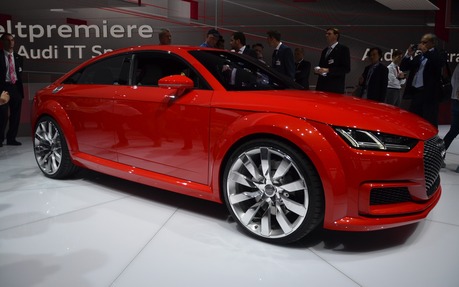 During the first night of the Paris Auto show, Volkswagen Auto Group revealed their latest spin-off of the Audi TT. After the estate (Allroad Shooting Brake Concept) and the off-roader (TT Offroad Concept), Ingolstadt has now decided to create a sedan out of its TT (and whatever the marketing department says, if a car has four doors and a separate trunk, it's a sedan, not a coupe!).
The new Sportback Concept is 29 cm longer, 6 cm wider and 3 cm lower than the standard TT. It also benefits from a 12 cm longer wheelbase, used to give the rear occupants more legroom.
This concept also differs from the regular TT with its styling: it has a different front bumper, a honeycomb grille and twin exhaust outlets nicely moulded to the rear bumper.
The TT Sportback Concept looks like a somewhat tame sedan, but under the hood is a 400 horsepower turbocharged inline-four! With the help of the Quattro system and a seven-speed S-Tronic gearbox, the car scoots from 0 to 100 km/h in 3.9 seconds. Even better, when driven in normal conditions, it can still be surprisingly efficient: only 7 L/100 km on highway.
Audi is clearly looking to diversify its TT lineup. With this sleek-looking sedan (which looks suspiciously ready for production), we can see that the manufacturer wants to fill every small niche market.