The Ultimate Audi R8 at the LA Auto Show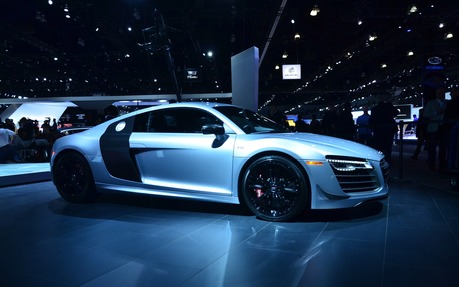 According to a press release from Audi, the new R8 Competition will be launched at the Los Angeles Auto Show.
This version of the popular supercar will probably be the last iteration of the R8, as the car has been with us for almost a decade now. Audi says it's the most powerful production car they have ever launched, and to back these claims the car is equipped with a 5.2 litre V10 producing 570 horsepower. This power is sent to the Quattro all-wheel drive system via a 7-speed S-Tronic gearbox, and is sufficient to launch the car from 0 to 100 km/h in 3.2 seconds. Since it can also reach 320 km/h, it officially becomes the fastest R8 to come out of the Ingolstadt factories. 
To differentiate the R8 Competition from its more plebeian siblings, you have to look at the details, like the lower lip made out of carbon fibre, or the mirror covers, the side blades, the rear diffuser or the rear wing made from the same material. The car also features a sport exhaust with gloss-black tips, to make sure you can hear it coming.
The R8 Competition will be sold exclusively in North America, and if you want one, you have to hurry: only 60 units will be built.