2014 Acura RLX Sport Hybrid SH-AWD: Impressive!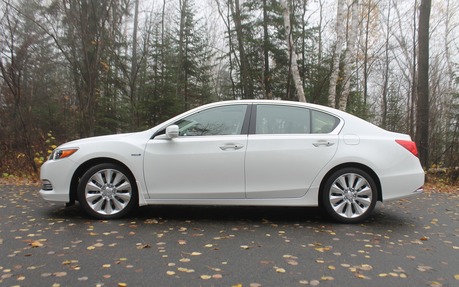 The 2014 Acura RLX Sport Hybrid SH-AWD is like the old story of the glass that's half-full or half-empty. If you consider its complexity alone (even its name is complex), then it's half-empty. If you consider the fact that it is one of the most evolved cars at Acura and in the whole industry, then it's half-full.
"It's a tad complicated," said Hayato Mori, manager of product planning for Acura Canada, as he began his explanation of the new all-wheel drive vehicle. In fact, not only is the concept brilliant, it's also unique.
In a nutshell, you take a luxury sedan (in this case the Acura RLX with its direct-injection 3.5-litre V6 with cylinder deactivation) and essentially make it more powerful (from 310 to 377 horsepower and 272 to 341 lbs.-ft. of torque). But of course, you want it to be more fuel efficient, too. Thus, the first logical step is to equip it with an electric motor, with the requisite hybrid logo on the sides, smoked chrome front grille and exclusive rims for the 19-inch tires that support the vehicle. This first 35 kW (47 horsepower) motor is integrated, in front, to the seven-speed twin-clutch transmission. Note that this is one more speed than on the "regular" Acura RLX. Also note that they dodged the catastrophic CVT. Phew!
As with any good hybrid car, this electric motor kicks in to support the gas-powered engine during more assertive acceleration. The rest of the time, it converts braking energy into electric power. It also helps power the Stop-Start device included in any self-respecting hybrid to cut the engine when the car is at a standstill.
Electric and independent!
So far, this vehicle is nothing to write home about. But where it really starts to get interesting is that two other electric motors, each making 27 kW (36 horsepower) and linked by a planetary gear system, are added to the equation.
Placed back to back over the rear axle (included in lieu of a differential so it doesn't require a drive shaft) they contribute not only to the rear-wheel drive—which is possible in electric mode only provided you take it easy on the accelerator—but they play the role of an all-wheel drive system too. And not just any all-wheel drive, thank you very much! Because each motor operates independently, they help to vary the torque as needed from one wheel to the other on the rear axle.
In other words, the motors act like the Super Handling system that was introduced in the first Acura RL (2005) and which has since been used throughout the line-up and elsewhere. The difference, however, is that there's no mechanical link. Even better, the fact that these motors are independent from one another and from the V6 (thanks to the lithium-ion batteries) means that one motor can actuate its rear wheel while the other applies the brake to its rear wheel and then recovers braking energy.
Basically, none of the motors sit idle, and yet they only spring into action when needed. They work with the precision of an orchestra conductor and with a great deal more torque latitude between the rear wheels than a traditional system.
Positive torque on one side and negative torque on the other? That's unheard of according to Acura. The result is a very sophisticated all-wheel drive effect with a V6 engine that uses as little fuel as a four-cylinder sedan with front-wheel drive. Now that's impressive!
Taking it easy on the accelerator
It all works like a well-oiled machine and is imperceptible to boot. When you check out the head-up display (new for Acura), you'll see that at cruising speed only the rear wheels (and sometimes only one) are powered by electrical energy—provided you don't go crazy with the accelerator.
Acura contends that the objective of this new setup is not to save fuel (even though the fuel consumption in town is 8 litres per 100 km, which is a third less than the regular RLX, while the combined fuel consumption is a quarter more frugal). Instead, they claim it was to boost power without forcing drivers to spend more at the pump.
We got caught up in trying to keep the vehicle's fuel consumption as low as possible and travelled 60 odd kilometres on mountainous roads in Quebec recording less than 6.0 L/100 km. At one point, we even hit an average of about 5.0 L/100 km.
We managed to do more than half the trip in 100% electric mode, but we had to be fairly gentle with the accelerator. While we didn't go at a snail's pace, our vigilance was not unfounded. After all, the testers before us recorded an average of 19 L/100 km! 
Keep calm...
Despite its superb all-wheel drive system (which the base trim doesn't have), the Acura RLX SH-AWD wasn't designed to be driven recklessly. For starters, 377 horsepower isn't all that much when you consider that the car gained 163 kg when it was transformed into a hybrid. Furthermore, everything about it seems to favour calm and serenity, from its Cottonelle-smooth handling to the beautifully-assembled, nicer-to-the-touch materials in the passenger compartment. The soundproofing has also been upgraded versus the ordinary Acura RLX. It helps mitigate all the road noises that aren't masked by engine noise. 
At $69,990, some $20,000 more than the basic version, it is Acura's the top of the line vehicle, at least until the Acura NSX comes out (which promises to be equipped with the same hybrid sport system, but with a fourth electric motor and a twin-turbo V6). As the top of the line model, the RLX SH-AWD features a whole host of equipment that some of the competition can only dream about: collision alert, lane departure warning, adaptive cruise control, heated and ventilated front seats, heated bench, tri-zone climate control, navigation, premium audio system (Krell), heated steering wheel and Surround View Camera System.
It has a brand new electronic gear selector that, although it isn't as intuitive as a traditional stick shift, is much more intuitive than some others that are trying to reinvent the shifter. What could make this Acura RLX Sport Hybrid SH-AWD even better? Maybe a bit more cargo capacity, since the batteries eat up a quarter of the trunk space. But that's the price you pay to make sure that the 985-mm rear legroom, among the best in class, remains unchanged.
This RLX Sport Hybrid SH-AWD definitely impressed us.
Test drive report
Test model

2014 Acura RLX

Trim level
SH - AWD
Price range
$49,900 – $62,190
Price as tested
69 990 $
Warranty (basic)
5 years/100,000 km
Warranty (powertrain)
5 years/100,000 km
Fuel economy (city/highway/observed)
7,5 / 8,0 / 5,9 L/100km
Options
N/A
Competitive models
Audi A6, Lincoln MKS, Volvo S80
Strong points

Unique technology (Hybrid SH-AWD)
As quiet as a library
Very sophisticated all-wheel drive
Great comfort
Among the best for rear legroom

Weak points

Trunk space has been halved
163 kg heavier than the regular version
The console takes time to get used to
Could be even more powerful

Editor's rating
Fuel economy
Value
Styling
Comfort
Performance
Overall