Autonomous Audi A7 Drove From L.A. To Las Vegas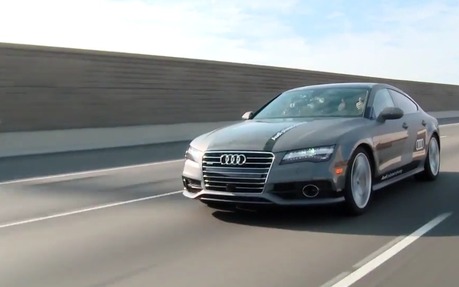 We learned about the autonomous Audi A7 a short while ago when the sporty sedan successfully completed a lap of the Hockenheimring, thus proving that the car's robot brain could process at high speeds.
During CES, Audi wanted to prove that their autonomous car could handle something even harder: driving in real-world conditions, around real people. To do this, the manufacturer sent its car to San Francisco, and ordered it to drive to Las Vegas, some 885 km away. With some journalists and engineers on board, the car successfully drove itself to the convention center where CES is held.
The system has its limits, however: It can only be used on the highway, not in cities, and it can't drive at speeds over 113 km/h. Because of current laws, there has to be a driver (passenger?) behind the steering wheel at all times. Despite all that, this experiment proved that self-driving cars are coming, and we can expect to see some on our roads interacting with human drivers soon.