Mercedes-Benz F 015 Luxury In Motion Concept: An Autonomous Egg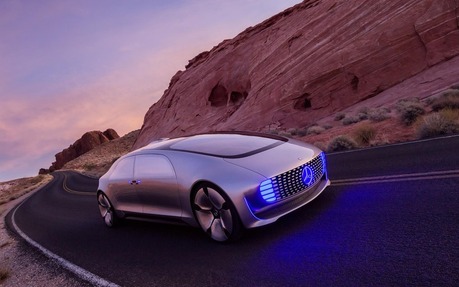 Spy shots have been circulating on the Internet in the last few months of a futuristic vehicle that Mercedes-Benz was planning to unveil at CES. Rumours were also flying around, but we can now see the Mercedes-Benz F 015 Luxury In Motion Concept in the flesh. First impression: it looks like an egg from the future.
First of all, it's fully autonomous: it uses an array of sensors, computers and cameras to ''see'' what's around it and how to react to the outside world. But that is probably the least interesting characteristic of this vehicle.
The weird shape of the concept has a distinct advantage: the interior is unbelievably roomy. It features four revolving chairs, which means that the passengers can talk to each other face to face. The dashboard is filled with tactile screens that not only control the car's functions, but also boast an Internet connection. For the rear passengers, the same types of screens are embedded in the door panels. If you don't want to touch them, you can control them using hand gestures or even eye movements; a camera follows your eyeballs at all times.
There is also loads of new technology outside: since the F 015 always knows what's around it, it can decide to slow down for a pedestrian, project a virtual road crossing for them using a laser, and tell them when it is safe to cross. An LED screen at the rear of the vehicle tells other motorists that the concept is stopped.
To move, the Mercedes-Benz F 015 Luxury In Motion Concept uses a pair of electric motors that generate 268 horsepower to the rear wheels. For more range, a hydrogen fuel cell is also used, enabling the car to cover up to 1,100 km before necessitating a fill up.