A Rallycross-Ready Subaru WRX STI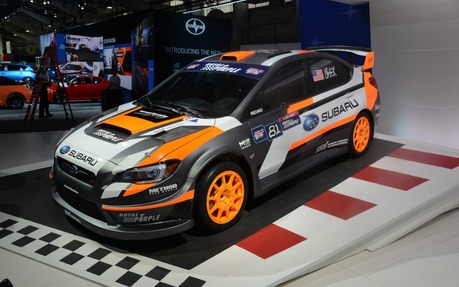 Subaru and rallying have a symbiotic relationship. Without this discipline, the Japanese automaker wouldn't have earned its racing stripes and wouldn't have had the perfect opportunity to showcase its AWD drivetrain. On the other end, the World Rally Championship got a large percentage of their fans because of the WRX STI's performance on the world's tracks.
This is why the announcement that Subaru was pulling out of WRC was disappointing. However, it did not mean that Subaru was done with racing, just that they wanted to focus their efforts elsewhere.
At the manufacturer's booth during the New York Auto Show, we will be able to see the WRX STI Rallycross which has been created to participate in the prestigious X Games and the Red Bull Rallycross events.
Since Subaru wants to keep a little mystery, they did not provide a lot of information on the car's technical specifications; we know that it's built by Vermont SportsCar, which has already built a number of racing STIs.
The 2-litre Boxer engine which equips this car has been heavily modified; developing 580 horsepower and fitted to a six-speed SADEV sequential gearbox, it helps the car reach 100 km/h in 2 seconds flat.
The one shown in the above picture will be driven by Bucky Lasek. While it does look nice, we hope that someone will field a blue one with golden wheels!