2016 Infiniti QX50 – Premiering At The New York Auto Show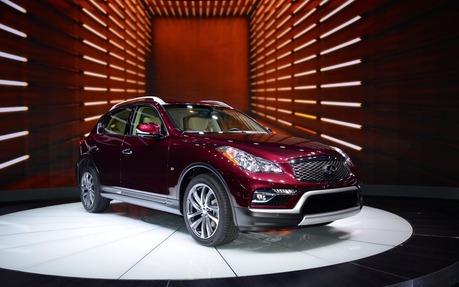 After introducing the QX30 Concept at the Geneva Motor Show in March, Infiniti chose the New York Auto Show to launch the new 2016 QX50. It features an evolved style, and a stretched, more spacious cabin than its predecessor. It's been known as the QX50 for a while, though the initial names were EX35 and EX37 (these monikers were ditched when the brand overhauled its naming hierarchy).  
Dubbed by Infiniti as "one of the first personal crossovers," the EX35 was the precursor of this latest model. Today, the QX50 belongs to an increasingly popular market segment. To correct one of the previous model's weak points, the lack of space for rear passengers, the wheelbase has gained 80 millimetres and leg room in the second row is now up 109 millimetres. 
The Q50 effect
When you look at its style, you'll notice the similarities with the Q50 sedan. The QX50 features a new bumper, a lower front fascia, a new double-arch front grille that's characteristic of Infiniti, new sideview mirrors with integrated LED indicators, redesigned side sculpting and a new rear bumper.  
A proven VQ
Under the hood, there's the same engine that has become ubiquitous at Infiniti and Nissan: the eternal 3.7L V6 that produces 325 horsepower and 267 lb.-ft. of torque. It connects to the all-wheel drive system by way of a seven-speed automatic transmission that comes with manual mode. The three options packages are called Privilege, Navigation and Technology. The QX50 will continue to be assembled in the Tochigi plant in Japan.