2015 Acura RLX Sport Hybrid: Like the Yamato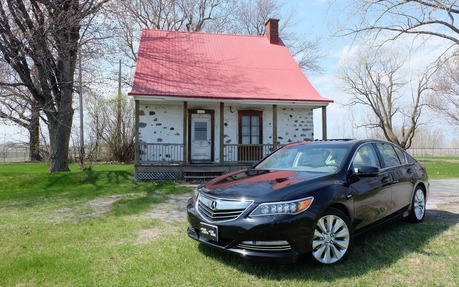 During World War II, Japan christened the Yamato, their largest battleship at the time. Displacing 72,200 tonnes, this vessel was the most-advanced of its kind with 181 guns and a top speed of 27 knots. But despite all that, it wasn't enough to help Japan win the war, and it sank in 1945, a few months before Japan surrendered.
The RLX Sport Hybrid is kind of in the same boat (pun intended): it is Acura's largest sedan, the showcase of Honda's technical ingenuity. Under its sleek lines sits most of what the manufacturer has learned about building cars this past century. Price and size-wise, it's a direct competitor to the very-best from Germany and the United States, and yet, not many of them find their way into customer's driveways; it seems that the RLX is not enough to turn the tides of war in Acura's favour.
A flagship fit for battle
Even the entry level RLX is a richly-appointed vehicle: starting at $49,990, it comes with a 310-horsepower V6 turning the front wheels, leather all throughout the cockpit, a power moonroof, the manufacturer's latest infotainment system, 18-inch wheels... But the model that Acura loaned me wasn't the base model: I had the Sport Hybrid variant, which adds a whole other layer of luxury: 19-inch wheels, a dual-clutch seven-speed transmission, a 14-speaker Krell premium sound system and a whole array of driving aids.
But the most interesting piece of technology is found in this RLX's drivetrain. In addition to the aforementioned V6, the sedan boasts 3 electric motors: one in the transmission (that can drive the front axle) and one in each of its rear wheels. This gives not only 377 combined horsepower to the RLX, but also the benefits of all-wheel drive (although this means that it doesn't enjoy Acura's All-Wheel Steer like other RLX models) and instant torque. At speeds under 85 km/h,  the car can even drive on electric power alone; in fact, when the driver applies the throttle lightly when taking off from a stoplight, the car moves silently, powered only by electricity. Add to that enough sonar, radar and camera systems to allow the car to drive itself on the highway  and you get pretty much every technology that Honda has available right now. This isn't hyperbole, either: at the touch of a button, the computers fully take over the driving, scanning the road ahead and keeping the car pointed in the middle of the lane, slowing down or even stopping if there is an obstacle in front of you. The experience is eerie and you need to trust that some engineer you never met did their job right, but it works amazingly well.
The rest of the car is also worthy of the flagship term: its fit and finish is flawless, there is rich leather everywhere you touch (and high-quality smooth rubber or thick carpet everywhere else), the insulated windows seal you off from road noises and the suspension absorbs jolts in silence. Styling however, is kind of a hit-or-miss: some people will appreciate its clean, conservative lines - the Jewel Eye headlights were a head-turner - while others will say that the RLX lacks character.
Driving the RLX is a very relaxing experience. There isn't a lot of road feel through the steering and the sedan exhibits a fair amount of body roll and understeer when pushed to the limit, but this isn't how the sedan is meant to be driven. When handled like the luxury barge that it is, the RLX is quiet and comfortable, capable of racking up the miles while its occupants are cradled in comfortable seats and utter silence.
A window to Honda's future
As far as I can tell, Acura didn't intend the RLX Sport Hybrid to be a volume-seller – at $69,990, it's closest competitor would be the Kia K900, the Hyundai Equus and the Lexus GS, none of which are exactly flying off the dealer's lots – but more as a technological tour de force, a display of what they can do (in fact, the Sport Hybrid's electric drivetrain could find its way into Acura's next flagship, the NSX supercar). While it may not win in a direct faceoff against other full-size luxury sedans, the RLX Sport Hybrid could certainly appeal to customers who are looking for anonymity, comfort, and technology in a modern and high-quality package.
Test drive report
Test model

2015 Acura RLX

Trim level
SH - AWD
Price range
$49,990 – $69,990
Price as tested
69 990 $
Warranty (basic)
4 years/80,000 km
Warranty (powertrain)
5 years/100,000 km
Fuel economy (city/highway/observed)
8,0 / 7,5 / 8,8 L/100km
Options
N/A
Competitive models
Audi A6, Audi A7, BMW 5 Series, Cadillac CTS, Hyundai Genesis, Infiniti Q70, Jaguar XF, Lexus LS, Lincoln MKS, Volvo S60
Strong points

Impressive fuel economy
Silent as a stone
Lots of torque from the electric motors
Great build quality
It can drive itself

Weak points

Subdued styling
Some latency in the accelerator pedal
Lots of new, unproven technologies
$70,000 price tag

Editor's rating
Fuel economy
It's a luxury sedan with the fuel consumption of a compact car. What's not to like?
Comfort
Acura went all-out with the RLX. Some of the German sedans aren't as comfortable.
Performance
With the instant torque of the electric motors, the Sport Hybrid is decently quick off the line; after that, the V6 takes over and hauls the large sedan with authority.
Infotainment
Honda's large control knob needs some time to get accustomed to.
Driving
The RLX Sport Hybrid may be large and aimed towards comfort, but if you throw it into a corner, you'll see that it lives up to its Sport moniker.
Overall
The RLX Sport Hybrid won't flaunt your wealth around, but it's incredibly advanced and will give you the feeling of riding in your personal, high-tech cloud.