2017 Audi R8: Turbo Engine To Replace The 4.2L V8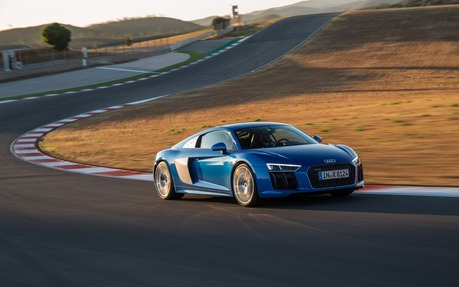 Recently launched and tested at Portugal's Autodromo Internacional do Algarve, the new second-generation R8 comes exclusively with a 5.2-litre V10, since Audi retired the 4.2-litre V8 available in the previous model. However, it's almost certain that the R8 will also be available with a turbo engine. At least, that's if we're to believe Ulrich Hackenberg, one of the directors at Audi AG, who said, "Adding a turbo is inevitable at some point during the current cycle as a means of expanding the product line."
Turbocharged speculations
The turbo engine would therefore compliment—and not replace—the 5.2-litre naturally aspirated V10 that is currently available. The question is, which engine will it be? There's a good chance it will be the 333-horsepower turbo V6 that is slated to power the RS4 and RS5 and replace the 4.2-litre naturally aspirated V8 that was also available on the first-gen R8. 
Not just a logical decision, this choice would be interesting from a technical standpoint since this engine's turbocharger is powered by electricity, and not by the force of the exhaust gases, in order to reduce the turbo's response time and enhance torque at low speeds. 
There's also the possibility that Audi will turn to the 2.5-litre five-cylinder engine with both a supercharger and turbocharger. We saw this option on the TT Clubsport Turbo concept presented at the Volkswagen Group's Worthersee event in mid-May. Inspired by the Audi 90 IMSA GTO from the 1980s, this beast generates 600 horsepower. 
So, it's basically a given that a turbocharged R8 in on its way. Will it come out when they launch the convertible? We'll have to wait and see!