The Audi S8 Plus Belts Out 605 Horsepower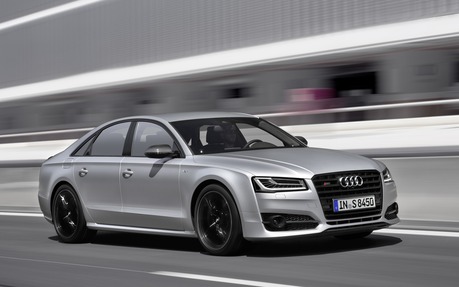 As if 520 hp wasn't enough, Audi managed to squeeze 85 more out of the Audi S8's twin-turbo, 4.0L V8 engine.
So 520 plus 85 adds up to 605. That's the output of the new Audi S8 plus which, according to the luxury brand, "defines the pinnacle of sporty performance in its segment."
The S8 plus also gets 516 lb-ft of torque, but an overboost mode temporarily increases peak twist to 553 foot-pounds. Compared to the, ah, regular S8, zero to 100 km/h acceleration drops from 4.1 seconds to 3.8, and if the car is equipped with the dynamic package, which adds carbon-fibre reinforced ceramic brakes and a sport exhaust, it can reach a top speed of 305 km/h. Other modifications include retuning of the adaptive air suspension and the dynamic steering system.
Visually, the Audi S8 plus distinguishes itself with a decklid spoiler, which can be painted in the same colour as the car's body or moulded in carbon fibre, a glossy black grille, smoked taillights and black quad oval tailpipes. An exclusive matt paint job called Floret Silver is exclusive to the hopped-up version of Audi's flagship sports sedan. However, if S8 plus buyers want to stay on the down-low, they can opt for the regular S8's styling.
Inside, the black full-leather upholstery is accented by Arras red stitching and seat piping, while the headliner and rear parcel shelf are covered in Alcantara. The dashboard is also accented with brushed aluminum and black piano paint trim.
In Europe, the Audi S8 plus will be available in November, priced at 145,200 euros, which currently converts to about $210,000 CAD. The official MSRP for the Canadian-spec 2016 Audi S8 plus hasn't yet been announced, but the 605-hp supersedan will be on sale this fall.