2015 Lamborghini Huracán LP 610-4: Shaking Up The Natural Order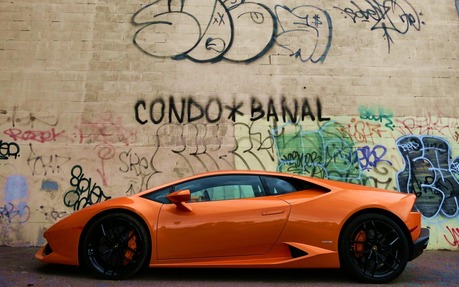 There's a unique feature offered with the 2015 Lamborghini Huracán LP 610-4 that you won't find documented anywhere in the owner's manual. If you ask about it at the dealership, you might get a wry smile from a sales advisor, but they will neither confirm nor deny its existence. I am referring, of course, to the cloak of invisibility that extends 30 metres in all directions from the car, an effect that renders 99 percent of all vehicles, pedestrians, alien space ships, tornadoes, and mythological creatures in the immediate vicinity impossible to detect with the human eye as all attention is focused on the bright orange bodywork of Italy's latest entry-level exotic.
All doubts I may have once had about the power of this astrophysical phenomenon were erased late one evening when I found myself sitting at a downtown Montreal stop light beside a second Huracán the same hue as my own, with an equally color-tuned Gallardo convertible just behind. Suddenly, the Lamborghini's collective density reached a critical mass, collapsing into a black hole whose pull was so strong that nothing could escape save the colour orange and the shriek of V10 engines spinning up to 8,000 rpm. In a burst of camera flashes, we broke free from the intersection only to repeat the process, ad infinitum, all the way St. Laurent boulevard in a stunning display of supercar science.
Does This Count As Heresy?
Such is the power of the Huracán's visual impact that it virtually re-writes Galileo's heliocentric model of the solar system, re-arranging the planets and all the beings who occupy them so that they orbit not the sun above but the searing sheet metal of the Lamborghini. My time behind the wheel of the Huracán opened my eyes not just to the sheer might embodied by its 5.2-litre, 10-cylinder drivetrain, but also to how far the automaker has come in constructing an exotic that bends the laws of physics but doesn't beat you up in the process.
602 horsepower and 413 lb-ft of torque from the Huracán's mid-mounted power plant is more than enough to put you into orbit, let alone get you in trouble, especially considering that this most affordable member of the Lamborghini family weighs less than the previously-mentioned Gallardo that it replaces. Credit, then, to the coupe's standard all-wheel locomotion and three drive modes (Strada, Sport, and Corsa) that do an excellent job in shepherding the Huracán's awesome output.
With 'Thrust Mode' (read: launch control) engaged, the vehicle slams past 100 km/h in a scary 2.9 seconds, on its way to a top speed of over 320 km/h - a terminal velocity that is accessible in a remarkably short space due to the ferocity with which the Huracán is willing to accelerate. A seven-speed, dual-clutch automated manual transmission, the first for the brand, replaces the Gallardo's automatic-or-manual option, but the car is none the poorer for it. Shifts are crisp even with the car set to Strada, and Sport and Corsa modes not only reduce the level of stability control intervention offered by the car but also cause the Lamborghini to swap cogs quicker than any human could ever hope to achieve, while adding steering effort and magnetically stiffening the automobile's suspension system.
The Silk Assassin
And yet in the midst of the Lamborghini Huracán LP 610-4's fury it's possible to forget that the shape of the vehicle surrounding you has more in common with something you'd find in a classified warehouse in Roswell than it does a more staid performance car. That's because almost everything about the Huracán's on-road demeanour (save for poor visibility out the rear, a product of its gun-slit back glass and on-display engine bay) is remarkably genteel.
There's no crash-bang over rough pavement, no sudden threat of turning 180-degrees through a slippery corner, and a complete lack of overweighted-sass from the Lamborghini's steering wheel. Similarly, the nicely laid out interior, which combines Audi-grade luxuries such as color-keyed leather and the MMI infotainment system (displayed through a slick LCD gauge panel), speaks to the corporate synergies introduced by parent Volkswagen. A quiet, easy-to-access cockpit with doors that don't require arm extensions to close and a personality that invites long road trips (instead of nervously suggesting to you that rest stops every hundred k or so might be a better plan) kicks off a new era for Lamborghini and puts a number of other, similarly-priced supercars on ergonomic notice.
Obligatory Huracán Warning
Don't think for a second that a Lamborghini that's easier to live with gives up any potency compared to past models. You'd invite smooth operator James Bond over to dinner - maybe even introduce him to your mother - but that doesn't make him any less of a cold blooded killer.
The Huracán LP 610-4 will obliterate almost any other automobile that risks a straight line confrontation, and it will put in an equally combative performance on whichever road course you choose to mention. More than that, it's retained - no, enhanced - the uncompromisingly brash attitude encapsulated by the best modern Lamborghinis, with a bite as sharp as the angles on its front splitter. And that's more than just my opinion: it's science.
Test drive report
Test model

2015 Lamborghini Huracán

Trim level
LP 610-4
Price range
$262,947
Price as tested
262 947 $
Warranty (basic)
3 years/unlimited
Warranty (powertrain)
3 years/unlimited
Fuel economy (city/highway/observed)
17,8 / 9,4 / N/A L/100km
Options
N/A
Competitive models
Audi R8, Dodge Viper, Ferrari 458, Lamborghini Gallardo, McLaren 12C, McLaren 650S, Mercedes-Benz AMG GT, Mercedes-Benz SLS AMG, Nissan GT-R, Porsche 911
Strong points

Outstanding performance
Easy to drive every day
Comfortable cockpit
Eye-searing looks
Incredible exhaust note
You meet a lot of people every time you park

Weak points

Expensive
As with most exotics, the world's biggest attention magnet
Low stance makes it a challenge to deal with potholes
Very easy to suddenly lose your license because you had no idea you were driving 200 km/h

Editor's rating
Fuel economy
Honestly? Who cares?
Comfort
Aside from a tight pedal box, the Huracán is a comfy daily driver.
Performance
Pick your analogy: rocket, rails, catapault, missile.
Infotainment
Somewhat hard to navigate from one screen to the next, but the display is functional and well-designed.
Driving
Verges on religious, if your communion is a combination of adrenaline and attention.
Overall
An excellent effort from Lamborghini to produce an accessible supercar.