2015 Land Rover
Discovery Sport

: Entry-Level Luxury Progress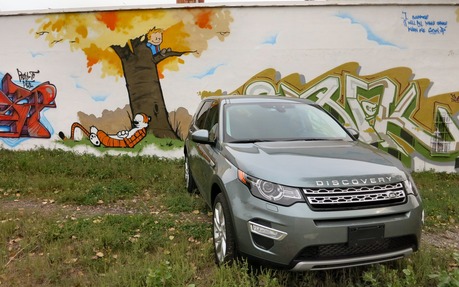 The Land Rover name has long promised adventure, but for 2015 the largely-new Discovery Sport entry-level SUV delivers something else. Certainly, much of the go-anywhere attitude associated with the British brand is still baked-in to the Discovery Sport's DNA - which is borrowed, in large part, from the Range Rover Evoque with which it shares its platform - but the emphasis has been moved to boulevardiering rather than trail-breaking.
This is an enlightened decision for Land Rover, which is no doubt cognizant of the fact that the vast majority of its buyers will never challenge their family transportation devices with anything more treacherous than an icy driveway. It also allows the Land Rover Discovery Sport to show off the luxury chops that have helped to keep the company at the forefront of the high-end sport-utility market for so many years.
Solid, Not Sizzling
The 2015 Land Rover Discovery Sport has been tapped to replace the aging LR2, a compact model that traded on its squared-off proportions and modest footprint in a bid to lure in first-time Land Rover customers. The new face of the Discovery Sport is more fluid, especially up front, but the upright stance has been maintained. If you're looking for sizzle, you'll have to opt for the previously-mentioned Evoque, which trades practicality for its sloping roofline and helmet-headed attitude.
Greater strides have been made inside the Discovery Sport, which in most areas improves on the switchgear and materials that were found within the LR2's cabin. Two notable exceptions are the gauge cluster, which still feels less special than it really should in an era where even the Jeep Cherokee gets a TFT display option, and the infotainment system, which repeatedly froze, dropped the Bluetooth connection to my mobile device, and occasionally refused to display messages. Visually, it's an improvement over past Land Rover interfaces, but somewhere along the way the touchscreen's logic has picked up more than a few bugs.
Roomy, Family-Friendly, Comfortable
The Land Rover Discovery Sport can be had in both two and three-row configurations, with the latter bringing total passenger capacity to seven. That final set of accommodations is exclusively for children, but with the bench folded out of the way the Discovery Sport makes good on its 10 inches of additional length compared to the Evoque, with generous cargo space for its class. Even when riding in the second row, most passengers will be content with their lot inside the Land Rover, as leg room can be enhanced by sliding the seats rearwards or reclining the seatbacks.
The Discovery Sport's suspension system does a good job of prioritizing comfort over outright handling prowess, with the standard four-wheel drive system meting out traction with poise and calm. It's remarkably quiet inside the Disco, making it an oasis from rush hour traffic as well as less frenetic to pilot over gravel. Should you wish to punish the SUV's chassis, the Land Rover's Terrain Response system offers multiple settings to tackle grass, sand, snow, mud, and other inhospitable enemies of forward progress. As I mentioned earlier, the Discovery Sport is far from a hardcore off-road weapon, but it's definitely in possession of skills that would shame 90 percent of the compact luxury spot-utility vehicles in its class once the pavement disappears.
Where's The Beef?
Despite having modernized much of its platform, the 2015 Land Rover Discovery Sport carries over the previous year's engine, a 2.0-litre turbocharged four-cylinder unit good for 240 horsepower and 250 lb-ft of torque. In place of the LR2's six-speed automatic, however, Land Rover has installed the same nine-speed autobox found in the Evoque.
This is where things got a bit puzzling for me. Throttle response in the Discovery Sport feels significantly slower than in its sister SUV, despite their identical mechanical specs. An issue of programming, perhaps, or an attempt to further 'civilize' the non-Range Rover for a more sedate crowd? I don't know - but the end result is a that the Disco comes across as a laggard off the line, and doesn't fare much better at speed when asked to accelerate.
Wait It Out, Or Adopt Early?
Land Rover will be bringing a new family of small engines online in the near future, which could bring a significant boost to the Discovery Sport's on-road character. Then again, if you're looking for a comfortable, reasonably-affordable premium SUV right now, you might not be in a position to play the waiting game in the hopes of a more athletic drivetrain appearing on the horizon. The 2015 Land Rover Discovery Sport brings traditional class, luxury, and practicality to the table alongside a startling degree of all-terrain capability, which, despite its balky infotainment system, will doubtless prove appealing enough to entice families who had written off the LR2 of old as simply too stodgy.
Test drive report
Test model

2015 Land Rover Discovery Sport

Trim level
HSE Luxury
Price range
$41,490 – $49,990
Price as tested
49 990 $
Warranty (basic)
4 years/80,000 km
Warranty (powertrain)
4 years/80,000 km
Fuel economy (city/highway/observed)
10,6 / 6,5 / 14,5 L/100km
Options
N/A
Competitive models
Acura RDX, Audi Q3, Audi Q5, BMW X3, BMW X4, Lexus NX, Lincoln MKC, Mercedes-Benz GLK-Class, Porsche Macan, Volvo XC60
Strong points

Roomy interior in first two rows
Improved styling
Reasonably affordable in entry-level trim
Excellent four-wheel drive system
Higher quality interior materials

Weak points

Lackluster performance from four-cylinder engine
Third row is tight for adults
Too many bugs in the infotainment system
Not that fuel efficient

Editor's rating
Fuel economy
Not that impressive compared to similarly-sized SUVs.
Comfort
Very smooth in all driving situations.
Performance
Acceleration is tepid from overtaxed four-cylinder engine.
Infotainment
Too many bugs interfered with my enjoyment of the infotainment system.
Driving
Off-road, it's class-leading. On-road, it's not exciting, but it is comfortable, and that's what's important in its class.
Overall
The drivetrain and infotainment system are the only things holding the Discovery Sport back from a higher rating.