Audi R8 LM: A Canadian Exclusive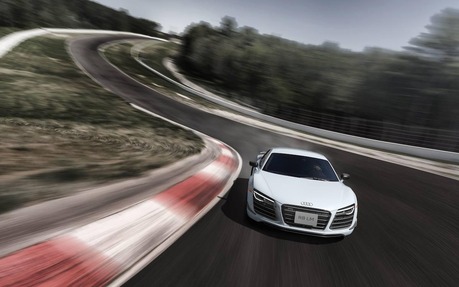 The latest generation of Audi's supercar, the R8, has recently been unveiled, but as a last hurrah for the first generation (which had the difficult job of launching a brand-new high performance nameplate without any previous racing pedigree) Audi Canada will roll out a limited-edition version of the R8.
Dubbed the R8 LM, this will be the penultimate version of the car, after which the 2016 R8 will arrive on our shores.
This R8 will actually be reminiscent of the LMX, however it won't feature its laser headlights (which are still illegal in North America because of antiquated laws), its electric blue paint or its 19-inch black wheels. However, it will make good use of the LMX's 570-horsepower V10, as well as a few details added by Audi Exclusive.
Only eight units of this Canadian-only supercar will be built.
Pricing hasn't been announced yet, but it's probably safe to say that the car will be more expensive than the ''base-model'' R8, and since we're talking about a $189,000 car, the R8 LM might list for between $220,000 and $280,000.