Meet Marty, An Electric And Autonomous DeLorean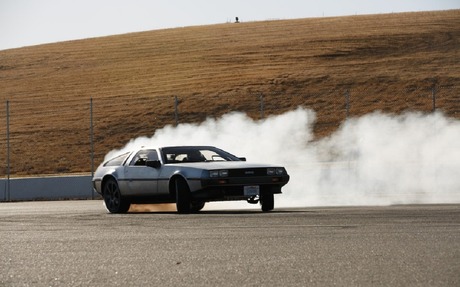 In the second Back To The Future movie, the DeLorean travels through time; its destination? October 21st, 2015, which was yesterday!
To celebrate the occasion, Stanford University unveiled a very special DeLorean DMC-12. Not only was the underpowered V6 swapped out for an electric powertrain, but this Delorean can also drive itself!
Named Marty (like the movie's hero), Stanford's DeLorean was tested in an empty parking lot. There, it drifted around a cone, precisely running over its own tracks.
According to Marty's creator, these manoeuvres are not only very cool, but they also have a scientific purpose: by making a car drift precisely, they can make sure the autonomous vehicle will be able to handle itself even in the worst situations.
This DMC-12's drivetrain comes from Renovo. You may have heard of the Californian outfit, they build an electric-powered Shelby Cobra Daytona Coupe.
Marty's future is looking bright; in the next few years, the car will be fine-tuned with a clear objective: to be better at drifting than a professional driver.
Toyota also used the Back To The Future hype to show their Mirai and a new Tacoma.