2016 Infiniti Q50 : More Power And Better Steering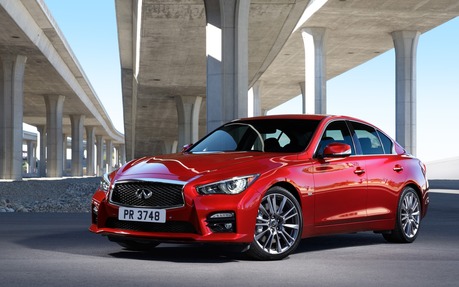 While the Infiniti Q50 is a sleek-looking sedan offering a lot of equipment for its price, it was missing a few touches that made it somewhat less attractive than its competitors. First of all, its digital steering felt like it was completely disconnected from the road, which was very unpleasant (it actually is: apart from an emergency steering column, only sensors and wires connect the front wheels to the steering wheel). Also, its 3.7-litre V6 lacked power, especially in a segment where it's customary to offer around 350-375 horsepower.
Infiniti announced that they tried to solve both problems for the 2016 Q50: the steering has been thoroughly reworked to offer better feel and tighter handling. We are curious to take the car for a drive and see just how good that new system is, but it's nice to see that the manufacturer at least acknowledged that there was a problem.
Changes occured under the hood, too: the old VQ engine has been replaced by a new lineup of powertrains, although it is still offered in the Hybrid. Base versions of the Q50 will get  a turbocharged four-cylinder displacing 2 litres, developing 208 horsepower and 258 pound-feet of torque.
If you prefer to go a little faster, you can either choose to get the new 3-litre twin-turbo V6 in base tune (300 hp and 295 lb-ft) or the Sport version, which cranks up the boost to generate 400 hp and 350 lb-ft of torque.
Regardless of your engine of choice, a seven-speed transmission (automatic, of course) is standard.
We are still awaiting to see if prices will be similar to last year, and exactly which trim levels will be offered here.