2016 Infiniti Q50 and 2017 Infiniti Q60: Signs of Life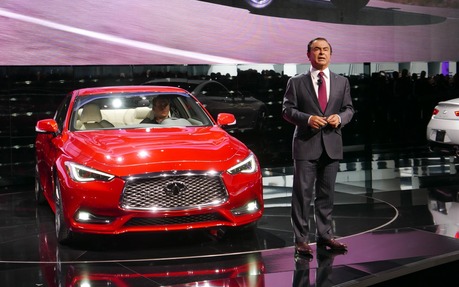 The 2016 Infiniti Q50 sedan and 2017 Infiniti Q60 coupe indicate that there are signs of life at the premium Japanese brand. After a tepidly-received update of the Q50 that was chided for not offering the same engaging driving experience as rivals from BMW and Audi - and with no new coupe to offer following the four-door's redesign - the 2016 model year brings renewed enthusiasm for performance from Infiniti.
At the heart of the matter is a new 3.0-litre, twin-turbo V6 engine, which will be offered in two distinct versions producing 300 horsepower and 400 horsepower, respectively. The latter belongs to the 'Red Sport 400' edition of the Q50, which also comes with a more aggressive suspension system and a number of other go-fast goodies. It will be interesting to see how long it takes the aftermarket to unlock the extra hundred horses stuffed into the more modest V6. It's also important to note that the new family of engines marks the death of the VQ series of motors for both models - the 3.7 and 3.5-litre versions of that particular powerplant were ubiquitous throughout the Infiniti line-up over the course of the past decade.
A 2.0-litre, 208-horsepower turbocharged four-cylinder engine is available on base Q50 sedans as well as the Q60 coupe. Rear-wheel drive is standard for Q50 and Q60, and all-wheel drive can be specified as an option. Transmission choice remains locked to a seven-speed automatic, which can also be found elsewhere in the Infiniti line-up. Infiniti claims that it has retuned the electric power steering system that had so many Q50 drivers lamenting for lack of road feel, which could indicate a return to form for what was once a fun-to-drive premium choice.
Styling for the Q60 is an interesting mix of cues that can be found across the entire industry, including a hint of Mazda, Audi, and Honda depending on which angle the two-door Infiniti is viewed from. Inside the car is plush and simple, with an attention to detail that one would expect in a luxury vehicle. The automaker's entry-level BMW-fighter has lost some of the distinctiveness that it enjoyed when it was first introduced as the G35, but overall it's a handsome package. Whether it will be enough to pry customers away from the Teutonic sleds they've grown so accustomed to parking in their driveways remains to be seen.