Acura Precision Concept Hints At The Brand's Future Design Language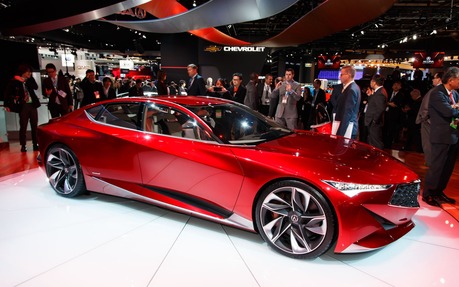 The Acura brand will celebrate its 30th anniversary this year, and at the Detroit Auto Show, it presented a concept car with a design that will inspire the company's future production models.
"We've done a lot of soul searching, thinking deeply, as a team, about our core values, and what they mean for the future of this brand," said Jon Ikeda, Vice President and General Manager for the Acura Division in North America. "In the process, we reaffirmed, that for the customer, there is no more clear promise for the Acura brand than Precision Crafted Performance."
Simply put, it's the same philosophy Acura adopted three decades ago when they created the Integra, the Legend and the NSX. They might have drifted away from their original DNA over time, but now, they're confirming that they're back on track.
If the Acura Precision Concept is any indication of what's ahead for Acura customers, the future looks a lot more promising from a design perspective.
The Precision Concept is a big four-door coupe – bigger than a Mercedes-Benz S-Class Coupe – with striking, angular lines and dynamic proportions. Presented on stage in Detroit by Dave Marek, Global Creative Director for the Acura Division, the "Acura Precision Concept is simply more than a concept vehicle. This is a design study model that literally will shape the direction of all future Acura products."
Jewel Eye headlights, featured on the front end of Acuras for the past few years, is out. Now, the brand is into Jewel Constellation headlights, which sounds much more fascinating. The big change is that the silver beak-style garnish on the grilles of recent products will be laid to rest. The Precision Concept boasts a wide-open grille with a prominent logo mounted front and centre. The signature grille design is now called Diamond Pentagon. The interior of the concept car is just as bold and daring as the bodywork.
The company didn't mention what type of powertrain is found in the Acura Precision Concept, because it likely doesn't have one. Whether this four-passenger car will inspire a production four-door coupe for the brand remains to be seen, but it would be a great addition to the lineup, plugging the gap between the RLX sedan and the mighty NSX.