Audi's Driverless A8 L Drives Guests On Its Own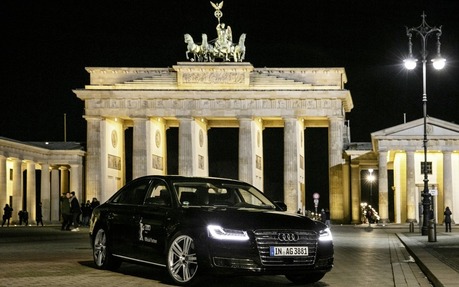 While some see the autonomous car as a way to transport the masses in a no-frills way, Audi has more interesting ideas on the matter. After showcasing a driverless S7 lapping a racetrack, the German manufacturer now tested out a more practical application of this technology: piloting a luxury limousine.
During a film festival in Berlin, Audi took it upon themselves to drive Daniel Brühl, a German actor, from his hotel to the red carpet. Instead of hiring a chauffeur, they opted to use an A8 L equipped with a W12 engine and a large array of sensors and cameras. The contraption neatly drove itself without outside help.
Well, almost: the car was programmed to look for geographical markers - like a mailbox, or a building at the angle of two streets - and compare them to a map stored in its electronic brain. This enabled it to follow its pre-programmed route.
The actor said that the drive was very smooth, the car having being programmed to imitate the driving style of a professional chauffeur.
This was more than a publicity stunt: Audi wanted to prove that they are well on their way to have an autonomous car ready for market, and that this technology will arrive in luxury cars well before it becomes mainstream.