2017 Audi R8 Spyder V10 Presented in New York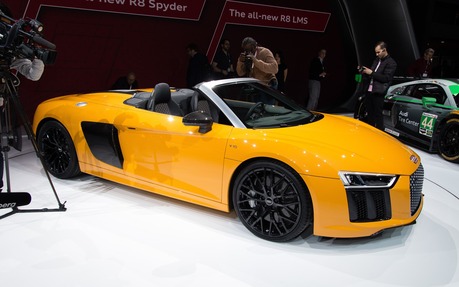 After unveiling the second-generation R8 Coupé two years ago, it's now time for the new topless version of Audi's sports car to appear, and its world debut is happening today in the Big Apple.
The 2017 Audi R8 Spyder V10 gets a power-folding soft top that stretches out into two fins alongside the engine compartment cover. The top can be raised and lowered in 20 seconds, even while the car is travelling at speeds of up to 50 km/h, while the rear window can be retracted or extended as well.
The R8 Spyder's dry weight has is set at 1612 kg (or 3554 lbs.), which is 125 kg more than the equivalent R8 Coupé. The roof mechanism and body reinforcements obviously make the car heavier, but it's still light compared to some other supercars, thanks to extensive use of aluminum and carbon fibre.
Unlike the current trend of reduced displacement and turbocharging, the R8 is equipped with a naturally aspirated, 5.2-litre V10 engine that develops 540 horsepower and 398 lb.-ft. of torque. It's managed by a, S tronic seven-speed, dual-clutch automated transmission as well as a quattro all-wheel drivetrain, and according to Audi, the R8 Spyder can blast from 0 to 100 km/h in 3.6 seconds. Top speed is pegged at 318 km/h. No word yet on the eventual availability of a "plus" version of the Spyder, which would get the R8 plus Coupe's 610-hp engine.
Inside, the Spyder gets a 12.3-inch Audi virtual cockpit display and the latest version of the MMI infotainment system. A new smartphone interface allows displaying selected content from the phone to the virtual cockpit interface, and this feature will be available later in the R8 Coupe as well. The topless version also gets a Bang & Olufsen sound system with loudspeakers integrated into the seat head restraints.
The 2017 Audi R8 Spyder's pricing and availability in Canada hasn't yet been announced.