Lotus Evora Sport 410 : Lighter Than Ever!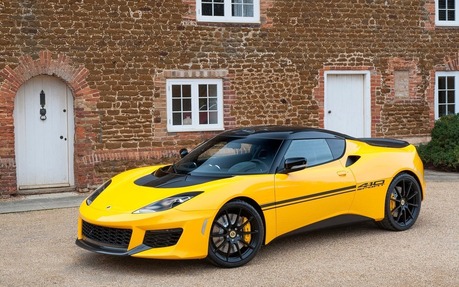 Like clockwork, Lotus periodically churns out lighter and faster cars. Both the Elise and its larger sibling, the Evora, receive better materials and lighter components on a regular basis to turn them into unique special editions. They sometimes tout their increased power, but more often than not, Lotus focuses on one thing: weight savings.
Lotus' founder, Colin Chapman, had a philosophy: Simplify and add lightness. Throughout the years, the brand mostly stayed true to this mantra… except in the early 2000s, when a particular individual wanted to build Lotus-branded SUVs…
The most recent Evora is the Sport 410, which only weighs 1325 kg. This is 92 kg less than a regular Evora. As the name implies, this version packs 410 horsepower and 302 pound-feet of torque coming from its 3.5-litre V6. A six-speed manual gearbox is standard; if you want an automatic, be prepared to live with a 12-kg handicap.
Among the list of weight-saving measures, we note the lack of armrests in the doors and the fact that the Sport 410 has no rear seats. Pretty much every creature comfort is optional: A/C, infotainment screen, speakers… Finally, most of the exterior panels are made of ultralight carbon fibre, and a set of 10-spoke wheels are added.
Only 150 Lotus Evora Sport 410 units will be built, and they will be available on the North-American market. However, the brand stated that those who will make it to our shores will have more standard equipment—and will therefore be heavier...