2018 Audi SQ7 TDI: The Most Powerful of All Diesel SUVs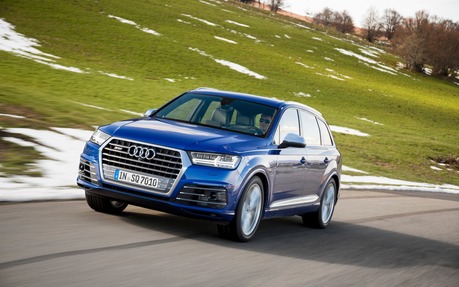 As soon as it started up, the 4.0-litre turbo-diesel V8 engine served notice: the muffled rumble of a big ole' diesel engine said this was not going to be a run-of-the-mill test drive. The second Audi SUVs to receive the "S" designation, the SQ7 TDI is simultaneously dynamic, technically cutting-edge and more fun than a two-metric tonne SUV should be. The 2018 model is scheduled to arrive in Canada in the fall of 2017.
The Ingolstadt-based brand's goal in designing the SQ7 TDI was to beat the Porsche Cayenne S Diesel and BMW X5 M50d, two high-performance, diesel-powered direct rivals sold in Europe. And after our first contact, which took place in France's Vosges Mountains, we can say without a shadow of a doubt that they hit their mark. The SQ7 TDI has much more power and torque than its main rivals. Generating 664 lb.-ft. of torque and 435 horsepower, this twin-turbo V8 helps the SQ7 TDI claim the title of most powerful diesel SUV.
As fast as a 718 Boxster
Although the SQ7 TDI weighs in at 2270 kg, or over 5000 pounds, you wouldn't know it in flat-out acceleration. This mastodon demonstrates stunning poise. Its 4.8-second 0-100 km/h time is quite impressive in that it's comparable to that of the new Porsche 718 Boxster.
This feat is made possible by the boost afforded by two turbochargers, which react sequentially, and by an electric compressor, supplied by a battery situated under the floor of the trunk. This compressor can reach 70 000 rpm in a quarter of a second, which helps feed the engine as soon as the driver presses the accelerator, eliminating the lag that plagues classic turbocharged engines. It's a simple concept that works admirably well.
From a technical standpoint, this innovation required the development of an electrical subsystem with 48-volt current, supplying not only the compressor, but also the active roll bars, a whole host of advanced safety systems and special features that help move the SQ7 TDI closer to autonomous driving.
Electromechanical roll bars
The SQ7 TDI's handling is also surprising thanks to its electromechanically controlled roll bars, air suspension and torque-vectoring differential. When the SQ7 TDI enters a corner, the roll bars control the body's lateral movement to maintain the vehicle's balance despite lateral g force.
They are uncoupled on straights for better comfort. This system is remarkably efficient and perfectly suited to this heavyweight SUV. Note that the Bentley Bentayga, which shares the Q7's platform, is equipped with the same device. Our only complaint about the SQ7 TDI's handling is that the steering could give better feedback about front-end traction, but that's basically it.
With no fewer than 24 driver assistance systems, the SQ7 TDI features Audi's entire electronic arsenal. Traffic Jam Assist controls steering when traffic slows to less than 65 kilometres per hour. The SQ7 TDI can also brake automatically in emergency situations, detect the flow of oncoming traffic before a left turn or sense the movement of pedestrians and animals at night with its infrared camera.
The assembly is irreproachably good and the SQ7 TDI also gets the Audi virtual cockpit instead of the traditional instrument panel. The passenger compartment provides a lot of room for the first and second rows of seats, but at the expense of the third row, as is often the case with this configuration.
The SQ7 TDI will arrive in Canadian dealerships in the fall of 2017 but, since it will be released here somewhat later than in Europe, the brass at Audi wasn't able to specify the price range or the factory-standard equipment of the versions that will be sold in Canada.
You can be sure, however, that the price will be upwards of CAD$100,000 and I'd be willing to bet that dealerships with have no trouble finding buyers for this exceptional SUV offering superior performance and reasonable fuel consumption.
Test drive report
Test model

2018 Audi Q7

Trim level
SQ7 TDI
Price range
N/A
Price as tested
N/A
Warranty (basic)
N/A
Warranty (powertrain)
N/A
Fuel economy (city/highway/observed)
N/A
Options
N/A
Competitive models
Mercedes-Benz M-Class, Lexus GX, Land Rover LR4, Jeep Grand Cherokee, Jaguar F-PACE, Infiniti QX60, BMW X6, BMW X5, Acura MDX, Porsche Cayenne, Volkswagen Touareg, Volvo XC90
Strong points

Engine delivers plenty of torque and performance
Impressively dynamic
Very advanced technically
Spacious cabin
Quality of assembly and finish

Weak points

Heavy
Pricy
Cost of options
Steering lacks feedback

Editor's rating
Fuel economy
Very good fuel consumption on the highway, a little less so in town.
Comfort
Remarkable thanks to the roll bars that are uncoupled on straights to allow good suspension travel.
Performance
0-100 km/h in 4.8 seconds: comparable to the new Porsche 718 Boxster.
Infotainment
Audi's MMI (Multi Media Interface) system is very user-friendly.
Driving
The SQ7 TDI is a lot of fun to drive thanks to its powerful engine and superior dynamics.
Overall
For the sport driving enthusiast who is obliged to drive an SUV for family reasons, the SQ7 TDI is remarkable.