2016 Nissan LEAF: Take it for a Spin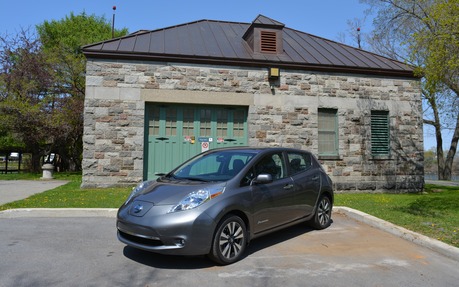 The title of this review is essentially a slogan and to be honest, it kind of bums me out. I should come up with something far cleverer like "electrically yours" or "green leafy substance," but the fact of the matter is that Nissan's LEAF requires only to be taken for a spin to convince potential buyers.
Never has it been truer that an EV, or electric vehicle, can meet and exceed the average consumers' wants and needs. Now that we know that you won't get zapped when it rains outside and you touch the car, that it won't burn your house down if it's parked within 100 metres of it and that the electromagnetic waves from the batteries won't make you forget the password to your secret My Little Pony Forums account, it could be a match for your lifestyle.
The electric car moved into the 21st Century when the LEAF arrived and I've had the pleasure, and the stress, of driving it on a number of occasions over the last five years. Every time I give it back, I realize that I could very well live with this car on a daily basis. In fact, as a family car, it would ace the 60-km to-and-from daily commute.
Fundamentally perfect
If you're wondering why I don't buy one, well, it's simple: I can't afford one. Auto critic's salary aside, as a normal consumer with a normal job, a $32,698 2016 LEAF is more than likely well in your reach. And, this is before the considerable provincial incentive you might be entitled to, and other rebates. For roughly $28k before taxes, you get an impressive car.
Exterior looks aside, the LEAF's cabin is nigh on perfect. It can accommodate five passengers with relative ease and loads of gear. The trunk is actually deep and capacious, in stark contrast with other EVs. The LEAF was solely and originally designed as an EV, and as such, all of its critical components are perfectly integrated.
Some aspects of the dashboard are quirky, but then this is expected in a car like the LEAF. Yes, like the outer shell that is akin to a frog or other such amphibious creatures, the cabin features an odd but highly functional shifter, and a few other distinct elements. Otherwise, the large display screen and all the important controls are prominently arranged. The heated seat controls are out of the way, but are not so oft used that they are nuisance.
The gauges display all the truly important elements and are a breeze to consult. Knowing what's going on is as easy as range on the right, battery status in the left and charge or power on top. Simplicity is underrated.
The range question
Actually, it's more of a curse. The first and essentially only question I ever get, and likely will get for a few more years is: "How far can it go on a charge?" This is usually followed by: "That's not much, is it…" Thing is, and I get it, we next to never drive 200+ km in a day, depending on the commute, of course.
As Nissan was the real first at bat (I know, Saturn EV1…), range was a monster they had to deal with. I little less than two years ago, the girlfriend and I took a 133-km (max range) LEAF on a 250-km road trip in November. What should have taken roughly 2.5 hours required nearly seven hours. Fact is though that we managed it, or I should say, took the time to manage it.
For 2016, Nissan's upped the ante by introducing a 30-kWh lithium-ion battery (up from the 24 kWh in the S) for the higher SV and SL trims, mated to the same 80-kW AC synchronous electric motor. This drives range up to 172 km from the aforementioned 133. The thing is that this indicated range is set for comparison only. This explains why one morning, my indicated range was of 179 km. This was the first time, in five years of reviewing EVs, that my noted range bested the suggested maximum range. This is VERY good for the psyche.
Once over this hurdle, driving the LEAF is easy as pie, as simple as lounging in your favorite chair with your iPad surfing the web. Slap the shifter in "D" or "B" (for extra regenerative braking) and off you go in sublime quiet and refinement, torqueing away from most everyone off the line, without ever feeling bad about anything.
Driving the LEAF is refreshing. I love a burbling flat-four, a raucous supercharged V6, a rumbling V8, but something overcomes one when driving an EV hard… Right, it's guilt-free pleasure.
The LEAF is generally soft, if you will. Steering's fine and well sorted, the suspension is loaded with wheel travel, pitch and roll are prominent, but it's all so very cushy and fun. The brakes are up to the task and if you play your cards right, the LEAF will deliver you and yours wherever you want to go in comfort, within range…
As the race to EVs for all continues, expect ranges to increase, to go along with more charging stations and more autonomy. Electric vehicles are here to stay and if what went down with Tesla and the Model 3, we'll all have one in a decade or so. If you need practice, go for the LEAF test drive now.
Test drive report
Test model

2016 Nissan LEAF

Trim level
SV
Price range
$30,608 – $38,458
Price as tested
35 308 $
Warranty (basic)
3 years/60,000 km
Warranty (powertrain)
5 years/100,000 km
Fuel economy (city/highway/observed)
N/A
Options
N/A
Competitive models
Lexus CT, Toyota Prius
Strong points

Comfortable, roomy cabin
Fun to drive
Decent ergonomics
Affordable with incentives

Weak points

Styling's odd
220V home charger almost necessary
Range can always be improved

Editor's rating
Fuel economy
Is it really fair to give it a 5 on 5? Yes, yes it is.
Comfort
Roomy, quiet, a lovely car.
Performance
Loads of torque, but runs out of breath at higher speeds.
Infotainment
Straightforward and easy to use.
Driving
Smooth ride, decent to good controls, a refreshing driver.
Overall
Besides the looks, there's nothing wrong with this car.