2017 Lincoln MKZ: Lincoln Takes a Stand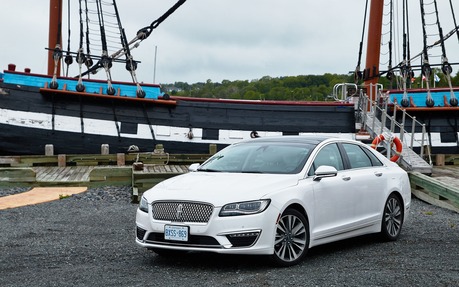 It's not getting a complete overhaul, but the Lincoln MKZ is nonetheless undergoing a major tweaking for 2017. With new styling and a new engine, Lincoln is not only updating this model, but also aligning it with its vision for the lineup.
If you've been following the world of automobiles even a little, you've seen some concept cars, and then the first version of the brand new Continental, a name brought back from the dead as a throwback to the good old days of Lincoln.
The new Continental represents a break from Lincoln's current image. So long to the front grille that resembled a whale's plankton filters, and hello to a stylish, prestigious stock.
The same image change applies to the inside, with speakers hidden under artistically pierced metal.
This style philosophy arrives on the 2017 MKZ, and with it, Lincoln is taking a stand about the future of its products.
Welcome changes
As previously mentioned, the MKZ has been restyled. Up front, there's a magnificent grille on which the Lincoln logo is proudly displayed. This change gives the car a more confident, prestigious look.
From the side, the car has changed very little, and in the back, the lines remain the same. It might have been a good idea to rework the rear end, since, quite honestly, it clashes with the front. But to each his own, right? You be the judge.
Inside, the door panel finish has been improved to appear more luxurious to consumers. The speakers are now protected by the aforementioned metal plates and this simple feature is enough to make you forget that you're in a dressed-up Ford. The controls on the dashboard have been revised, the tactile strips having been replaced by good old fashioned buttons, which will please buyers if Lincoln's marketing department is to be believed.
The infotainment system has been updated. Now nicer looking and more functional, it can integrate Apple CarPlay and Android Auto, but there are some rather significant shortcomings. Firstly, its very low position bucks the trend of higher placed screens. This means that if you're using the navigation map, you'll constantly have to look down to check the screen. By way of comparison, in a Mazda or a Mercedes-Benz, you only have to turn your head slightly.
Furthermore, the car's integrated navigation system is strange in that when we entered an address, it indicated a totally absurd arrival time, predicting three hours for a 30-minute trip. At one point, it told us that it had changed the itinerary to avoid traffic – almost non-existent where we were – and brought us down Nova Scotian gravel country roads instead!
Strange, but at least we were able to test out the car's suspension. After all, at heart, the MKZ is a car built for comfort, and in this regard, mission accomplished!
The front seats are comfortable, infinitely soft and offer sufficient lateral support. In back, the seats are every bit as comfy, with the exception of their excessively high position. If you opt for the panoramic roof and are six feet tall or more, forget about sitting in back – unless you're willing to have your head literally stuck to the ceiling. Speaking of the roof, it opens completely! It's awesome, but once retracted, the glass panel sits over the rear backlight, which hinders visibility.
Engines and conclusion
The MKZ is entering the 21st century. The basic model features a 2.0-litre turbocharged engine that develops 245 horsepower and 275 lb.-ft. of torque. Paired with a skilful six-speed automatic gearbox, it sends its power to front wheels in the basic version or, optionally, to all four wheels. Average fuel consumption is 10 L/100 km for the AWD version.
A version equipped with a 400-horsepower, twin-turbo V6 is also available, but we'll test drive it later this summer.
The impressive hybrid version's 188 horsepower and automatic CVT gearbox are a tad overmatched in acceleration, but its 6.4 L/100 km fuel consumption will make up for it. Unfortunately, there's no AWD for the hybrid version.
To conclude on the MKZ, it's a comfortable luxury car that offers excellent handling, but not even slightest touch of sportiness. There's no emotion behind the wheel, making it the antithesis of the Mercedes-Benz C-Class or E-Class, which both manage to combine comfort and driving pleasure quite well.
Lincoln prefers to make cars without regard for 0-100 km/h times or race tracks. The brand is making a firm decision about its future, and sport sedans aren't in it. We'll see if the gamble pays off.
Test drive report
Test model

2017 Lincoln MKZ

Trim level
AWD EcoBoost
Price range
$40,360 – $44,850
Price as tested
60 000 $
Warranty (basic)
N/A
Warranty (powertrain)
N/A
Fuel economy (city/highway/observed)
11,0 / 8,0 / 10,0 L/100km
Options
N/A
Competitive models
Acura TLX, Audi A4, Buick Regal, Cadillac ATS, Infiniti Q50, Lexus ES, Mercedes-Benz C-Class, Volvo S60
Strong points

Great new look
Soft, comfortable seats
Good fuel consumption (hybrid)
Well-calibrated automatic gearbox (2.0T)
Tolerable CVT automatic (hybrid)

Weak points

Emotionless ride
Back seats are too high
Unchanged tail end
Navigation system needs work
Panoramic roof that obstructs rear visibility when open

Editor's rating
Fuel economy
Very reasonable for the category; impressive hybrid version!
Comfort
Comfortable seats, smooth on bumpy surfaces.
Performance
Decent accelerations with the two engines we tested.
Infotainment
Nice improvements, but the navigation system is unpredictable and the Apple CarPlay integration is aggressive.
Driving
Although the ride is comfortable, we didn't have any fun.
Overall
This is a product for a specific clientele, and Lincoln is betting that this is what the people want.