2017 Ford Fusion: Something for Everyone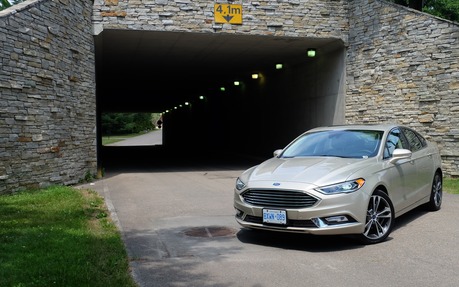 The Ford Fusion has never been happy playing second fiddle in the midsize sedan segment. Since the release of the second-generation Fusion in 2013, Ford has gone the extra mile to offer a superior product. And from now on, this vehicle will no longer be built in different forms to suit different markets. There is one single version of the car, but it will bear different monikers, depending on the country. In Europe, this sedan is called the Mondeo.
The 2017 edition features a few changes, not just to the exterior design, but also under the hood and inside the cabin.
Updates, not overhauls
When stylists are tasked with updating a vehicle, there are some conditions they have to abide by. Importantly, they shouldn't change the lines too dramatically, because the cost of restructuring the assembly line would be too high.
So, the 2017 Ford Fusion is just getting a nose job. The headlights now have a bulging lower portion. It's no big deal, but it's enough to be immediately noticeable. The light clusters also include LEDs. As for the grille, it's less of a gaping space and more streamlined than before. Plus, the lower bumper now includes large intakes that are more stylish than functional. In the rear, a large chrome bar has made its way to the middle of the trunk, dividing the taillights in two. Once again, the result isn't spectacularly different, but the Fusion didn't need an overhaul as it was already one of the most attractive sedans in its segment.
The big change on the inside is that the shift lever has been replaced by a rotating knob, just like on Jaguar/Land Rover products. The idea behind this update is to give the vehicle a more luxurious look; you'll have to see for yourself whether you think they pulled it off. This change also made it possible to add a USB port. The centre console includes the third and most recent generation of the SYNC system. It works a lot better than before, especially the voice commands. Apple CarPlay and Android Auto can also be hooked up.
A Platinum version has been added to the lineup, which includes heated and cooled seats, a lane-keep assist and adaptive cruise control.
On the highway, the Fusion is quieter inside than the previous gen (the one from 2010-2012). Other updates include improved acoustic insulation, a stiffer ride—which isn't a bad thing for buyers in this segment—and better suspension calibration for improved absorption of bumps and better sport handling.
Interested in engines?
We could spend a lot of time talking about the various engines available in the Fusion, as Ford aims to appeal to a broad range of customers.
The basic engine is a 2.5-litre four-cylinder. Few changes have been made to it for 2017, and it delivers 175 horsepower for honest performance, but it can only be paired with front-wheel drive. If all-wheel drive is what you're after, opt for the 2.0-litre EcoBoost instead.
For those who are green on the inside, the Fusion Hybrid is back. Its four-cylinder Atkinson-cycle engine is backed by an electric motor and continuously variable transmission. While its acceleration won't pin you to your seat, you can nonetheless sit back and enjoy its fuel economy of just 5.6 litres of gas per 100 kilometres. If you prefer the Fusion Energi, a plug-in hybrid version that can be charged using a regular outlet, you'll also benefit from 35 kilometres of range in all-electric mode.
At the other end of the spectrum is the Fusion Sport (which, sadly, we couldn't test). It comes with the same 2.7-litre EcoBoost V6 found in the Edge Sport. Throw your ecological aspirations out the window! Its 325 horsepower should probably be enough to launch you to 100 kilometres per hour in less than six seconds, especially if all-wheel drive is offered standard.
Last but not least, there's also a small 1.5-litre engine on the menu. Only available with front-wheel drive, this mill uses just 8.7 litres of fuel per 100 kilometers. Its performances are enough to navigate traffic with ease.
All gas-powered Fusions come with a six-speed automatic gearbox. The hybrid and plug-in hybrid come with a continuously variable transmission. We can't say that the CVT is flawless, especially in hilly areas where it keeps the engine revs high and makes the cabin noisy. When it comes to CVTs, Toyota and Honda do a much better job.
The all-American alternative
The Fusion is a direct competitor for the segment's two heavyweights, the Honda Accord and Toyota Camry. It may not sell as many units as its two rivals, but it's just as competitive in terms of comfort. It's even better on gas in some cases, and at times can offer enough power to decimate the others.
Chances are there's a 2017 Ford Fusion with your name on it. All you have to do is decide which one!
Test drive report
Test model

2017 Ford Fusion

Trim level
N/A
Price range
N/A
Price as tested
N/A
Warranty (basic)
N/A
Warranty (powertrain)
N/A
Fuel economy (city/highway/observed)
N/A
Options
N/A
Competitive models
Buick Regal, Chevrolet Malibu, Honda Accord, Hyundai Sonata, Kia Optima, Nissan Altima, Subaru Legacy, Toyota Camry, Volkswagen CC, Volkswagen Passat
Strong points

Still good looking
Wide selection of engines
Quieter than in the past
Plug-in version offers good fuel economy

Weak points

Ride is less dynamic than before
The CVT makes for a noisy ride
The 1.5-litre engine is barely sufficient

Editor's rating
Fuel economy
All versions of the Fusion are frugal, but the hybrid and plug-in hybrid take it a step further.
Comfort
This sedan is now more comfortable thanks to better insulation.
Performance
The Sport version promises to be very powerful, but in the meantime the 2.0-litre's ponies are nothing to turn your nose up at.
Infotainment
Let's give credit where it's due: the SYNC 3 system is now reasonably convincing.
Driving
The Fusion is not as engaging as in the past; which is a good thing for most buyers.
Overall
The Fusion has not lost the features that make it attractive in its segment, and the changes made to the 2017 version will be enough to draw buyers into dealerships.