Nissan preps GT-R LM cars ahead of 24 Hours of Le Mans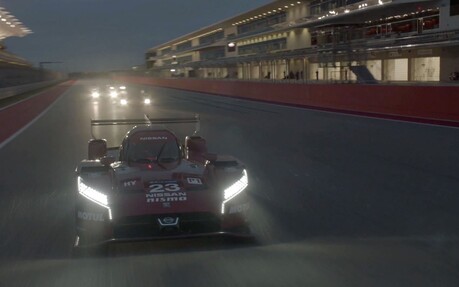 With the 83rd running of the famed 24 Hours of Le Mans fast approaching, Nissan is hard at work testing its new GT-R LM Nismo vehicles in preparation for the big race.
With three of the front-wheel drive prototype cars set to run in the LM P1 class—and a lot riding on the unconventional GT-R LM entries—the team and its nine drivers have been busier than ever track testing in the United States before heading to France.
Racing in the P1 prototype class affords Nissan plenty of flexibility, and the automaker's motorsport team took full advantage with the GT-R LM and its funky setup.
The car features a front-engine, front-drive layout, making it unique in top flight racing.
The GT-R LM is powered by a hybrid propulsion system that combines a twin-turbocharged V6 gasoline engine with a mechanical flywheel Energy Recovery System (ERS) to make as much as a combined 1,600 horsepower at the wheels.
Nissan will, however, be scaling back the GT-R LM's output to a modest 1,200 or so horsepower this year.
As for why the GT-R LM features a front-front layout, Nissan's LM P1 technical director, Ben Bowlby, says the decision to go that route provides a greater percentage of the car's mass—around 65 per cent—over gas engine-driven front axle.
That added weight combined with "huge amounts of front-end downforce" and wider tires fitted up front should provide more traction and, in the event of extremely wet conditions on the track, allow the car to reach higher speeds than its competitors before aquaplaning occurs.
Only time will tell how well the GT-R LM will stack up against competition from prototype entries from Toyota, Audi and Porsche.
The 2015 24 Hours of Le Mans runs June 13-14.