Infiniti adding trio of turbo engines to Q50 sedan for 2016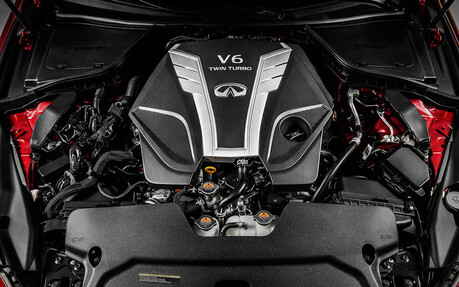 The Infiniti Q50 sedan will receive three new turbocharged engine choices for the 2016 model year, including a 400-horsepower 3.0-litre.
Dubbed "the most advanced V6 ever offered by Infiniti," the 400-horsepower, twin-turbocharged 3.0-litre is one of two members of the new VR-series engine family that replaces the award-winning 3.7-litre naturally-aspirated V6 under the hood.
Available in a new Infiniti Q50 Red Sport 400 set to go on sale in spring 2016, the high-output VR-series engine features an aluminum-alloy block and cylinder heads, direct injection, an electronic wastegate actuator, water-cooled engine charging and an integrated exhaust manifold.
The 2016 Q50 Red Sport 400 will also feature an all-new "Dynamic Digital Suspension," and staggered 19-inch aluminum-alloy wheels.
Joining the 400-horsepower VR is a detuned version of the 3.0-litre that makes 300 horsepower and will be available across the Q50 lineup, according to Infiniti.
"The Q50 has been the heart of our Infiniti lineup since it was introduced two years ago," Infiniti Americas vice-president Randy Parker said in a statement. "So now it's only appropriate that we get Q50 drivers' hearts beating a little faster with these advanced VR-series engines."
Joining the two 3.0-litre engines is a 208-horsepower turbocharged 2.0-litre inline four-cylinder that was jointly developed with Daimler.
Produced in Tennessee, it will be offered in base and Premium 2.0t versions of the new Q50.
Infiniti also introduced a facelifted version of its QX60 crossover for 2016, which features slightly new looks and new safety features, including Forward Emergency Braking (FEB) with pedestrian detection.
The 2016 Q50 and QX60 models will be on display at the Detroit auto show in January.