2017 Infiniti Q60 boasts bold new styling, 3 turbo engines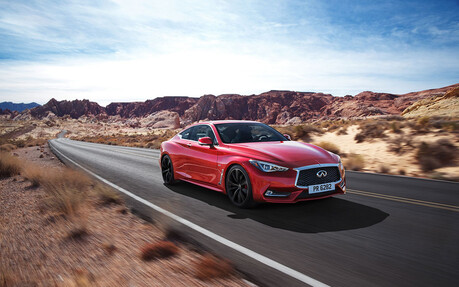 Infiniti's next generation sports coupe will be available with the choice of twin-turbocharged V6 or turbocharged four-cylinder when it goes on sale this summer.
Unveiled at the Detroit auto show, the 2017 Infiniti Q60 brings bold new styling to the brand's two-door offering, while boasting three new engine choices, each more powerful than the last.
Replacing the VQ series engine that has resided under the hood of this car's predecessor since 2002 is the choice of two all-new VR series V6s, as well as a new tubocharged 2.0-litre four-cylinder.
The inline four makes 208 horsepower and 258 lb.-ft. of torque, according to Infiniti, while the twin-turbocharged 3.0-litre V6 is available two ways: One making 300 horsepower and 295 lb.-ft. of torque, and the other a whopping 400 horsepower and 350 lb.-ft. of torque.
The Q60's four-door sibling, the Q50, is available with the same three engines for the 2016 model year.
2017 Q60 models with either version of the V6 under the hood come equipped with Infiniti's Direct Adaptive Steering, which the automaker claims "transmits the driver's input to the wheels faster than a mechanical system while requiring fewer steering corrections."
What's more, Infiniti claims the system can make 1,000 steering adjustments per second, enhancing steering feel by "quickly and intelligently" communicating to the driver feedback about road surface and chassis behaviour.