Audi shows off six-door, 20-ft long A8 L extended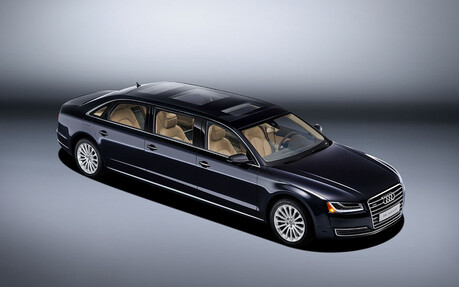 Audi has unveiled a one-off version of its A8 L sedan that measures more than 20 feet long.
Built at the special request of an unidentified European customer, the A8 L extended took more than a year to build, and features room for six passengers—and doors for each of them.
The A8 L extended rides on a 13.8-foot wheelbase and stretches 20.9 feet, while featuring a 7.9-foot glass panel in the roof "to enhance the sense of spaciousness."
Building the A8 L extended took more than simply welding in some aluminum and adding an extra set of doors, though, and Audi says the entire body from the A-pillar back was reworked to maintain "a harmonious roof line."
The major challenges in building the behemoth concerned the safety and rigidity of the large body, and the styling of the silhouette, according to the automaker.
Powered by a 3.0-litre TFSI V6, the car makes 306 horsepower and 325 lb.-ft. of torque, and runs from 0 to 100 km/h in 7.1 seconds, a product of its 5,331-lb. curb weight.
To bring the extra heft of the car, which measures 3.6 feet longer than the production A8 L, the A8 L extended features the braking system from the Audi S8.
Audi claims it has received further requests for the custom A8 L extended.