New Audi R8 V10 plus selection 24h limited to just 24 units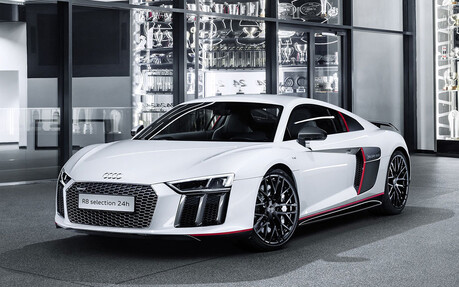 Worried a $214,000 Audi R8 V10 plus won't cut it on the exclusivity scale?
Well the German automaker has your back, announcing the limited edition R8 V10 plus selection 24h, a nod to the R8 LMS race car.
Limited to just 24 units worldwide, the selection 24h builds on the 2017 R8 V10 plus, "the fastest and most powerful production Audi of all time," by making it look the part of a race car for the road.
Like the new V10 plus, the car is powered by a 5.2-litre naturally-aspirated V10 that makes 610 horsepower and 413 lb.-ft. of torque.
Audi claims the engine is "virtually identical" to the one found in the R8 LMS race car, with only the fuel injection system setting the two apart.
The engine comes mated to a seven-speed dual-clutch automatic and puts power down to all four wheels through a revised quattro drive system that can divert 100 per cent of the torque to the front or rear axles.
Available as options on the R8 V10 plus, standard equipment on the selection 24h includes Audi's magnetic ride adaptive dampers, dynamic steering, sport exhaust and laser lighting, while the front spoiler, side view mirrors, engine cover, rear wing and diffuser, and side vents are made from carbon fibre, with the latter finished with a matte "R8 24h" logo.
It also rides on 10-spoke gloss black 20-inch forged aluminum wheels, while the exterior is finished in Suzuka grey, like the R8 LM that appeared on an episode of Motoring 2015, with black and red highlights similar to the R8 LMS.
With no options available, pricing in Germany sits at a staggering €229,000—or roughly $338,000 in Canada, based on current exchange rates.