2017 Nissan GT-R Nismo unveiled at Nurburgring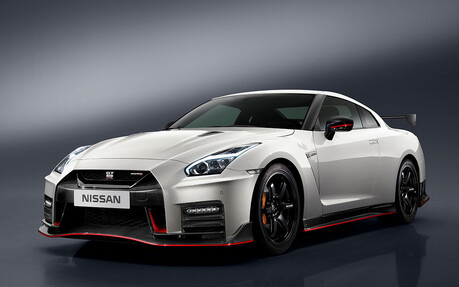 Nissan chose Germany's Nurburgring as the ideal venue to unveil the super car-eating, fire-breathing 2017 GT-R Nismo.
Like the 2017 GT-R unveiled by Nissan earlier this year, the new GT-R Nismo gets revisions just about everywhere, including a "significantly reinforced hood (that) avoids deformation at extremely high speeds," and a front bumper that is made partially of carbon fibre.
The cabin has also been refreshed, with the car's redesigned dashboard and steering wheel covered in Alcantara suede.
The GT-R Nismo also benefits from the reworked centre stack in the GT-R that boasts an eight-inch touchscreen, replacing the previous version's seven-inch screen, which helps reduce the number of switches from 27 to 11, according to Nissan.
But on to what really matters.
Nissan says the standard model's "significantly reinforced body" for 2017 allowed its engineers to "further refine" the GT-R Nismo's shock absorbers, springs and stabilizers to improve handling.
The car's twin-turbocharged 3.8-litre V6 makes the same 600 horsepower and 481 lb.-ft. of torque as the outgoing version, according to the automaker.
"The GT-R Nismo emphasizes the 'R' in its nomenclature," Hiroshi Tamura, GT-R chief product specialist, said in a statement.
"Its direct ties with racing make it at home on any race track, providing the highest levels of excitement and exhilaration for the driver. With the 2017 GT-R as a starting point, the new NIismo version has become a more well-balanced machine, with not just increased performance, but a heightened premium feel overall."
The car is assembled in Tochigi, Japan, with the engines hand-assembled in Yokohama, Japan.