Infiniti's VC-T Technology, or the World's First Production Variable Compression Engine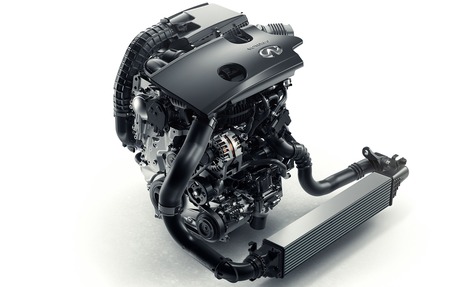 The Car Guide recently visited the headquarters of Nissan's luxury division in Japan to learn a little more about the brand's long-term strategy. Aside from design, Infiniti want to set itself apart with its various technologies and that's exactly what they'll be introducing at the upcoming Paris Auto Show. They'll be launching a new engine called VC-T, the first production engine to benefit from variable compression ratio.
This turbocharged, 2.0-litre four-cylinder has been fully engineered by Nissan, and it's the fruit of 20 years of research and development. Its advantage? More power as well as improved fuel economy that the company estimates at 20% to 30%, which lines it up with the efficiency of diesel engines. It serves up the performance of higher-displacement engines mixed with the flexibility and lightness of a four-cylinder mill.
Its operation is pretty complex, but in simple terms, a lever connected to a pump located outside of the engine allows the connecting rod to raise or lower the height its piston can reach. As a result, the engine's compression ratio can vary from 8:1 to 14:1, for either more performance or more fuel efficiency. Engineers were able to optimise output according to engine rpm, eliminating all the disadvantages related to a compression ratio that's too low or too high.
The engine also includes two injection systems, direct and port admission, once again for gaining the advantages of both types of systems according to the driving situation.
The Car Guide knows a little more
Other than the sparse details announced by the manufacturer, we had the opportunity to discuss with their engineers during our trip to Japan, and get a little extra information on this new technology. First of all, it's the 2018 Infiniti QX50 that will be the first model to be equipped with the new engine, which will replace the VQ 3.5-litre V6.
Horsepower and torque numbers haven't yet been officialised, but we're guessing the engine will develop more than 250 hp. It will be connected to a continuously variable automatic transmission (CVT) and can be matched to an all-wheel drivetrain. This VC-T engine, which stands for Variable Compression-Turbocharged, could also be part of a hybrid powertrain system, which would make it one of the most efficient currently on the market.
A six-cylinder version could be developed in the future, too.
We'll know even more about Infiniti's VC-T technology at the Paris Auto Show.