Liberty Walk Works its Magic on the McLaren 650S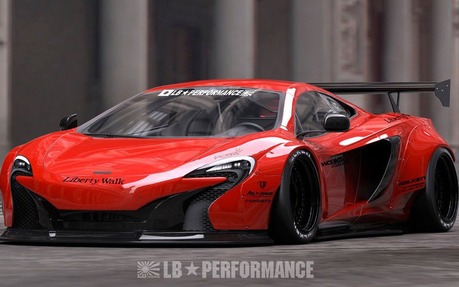 Today's tuners have a lot in common with pre-war coachbuilders: they take a vehicle that comes out of a manufacturer's assembly plant and give it their personal touch.
Liberty Walk is a small workshop in Japan: they made their reputation modifying JDM cars such as the Nissan GT-R, with wide fenders fitted to the vehicle with rivets, deep-dish wheels and a wing that looks like it came off a race car.
Now, the tuner mostly does exotic cars. Their latest work of art is based on the McLaren 650S.
For around USD$55,000, Liberty Walk will supply you with everything you need to transform your 650S into what you would see in a video game. The vehicle in the above pictures is not only wider and lower than the production version, but it also features Liberty Walk's signature fenders and wing. The taillights are also replaced with simple LEDs for a more aggressive look.
If you or someone you know is trying to make their McLaren 650S stand out, Liberty Walk will offer this kit in September.