2018 Audi TT RS: We're Driving it on the Track This Week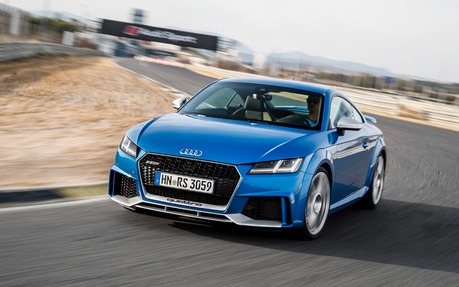 The Car Guide is heading to Madrid, Spain in order to get behind of the wheel of the all-new Audi TT RS on both the region's roadways and on the Jarama track, where Gilles Villeneuve won his last Formula One race for Ferrari in 1981.
I was at the world unveiling of the TT RS at the Beijing Auto Show last spring, and I'm anxious to get some seat time in this variant whose performance and driving dynamics are increased compared to the Audi TTS.
The new TT RS still relies on a turbocharged, 2.5-litre five-cylinder engine, but it has been thoroughly revised and now includes an aluminum block, reducing weight by 57 lbs. compared to the previous generation of the five-banger. Producing 400 horsepower as well as 354 lb.-ft. of torque over a rev range of 1700 to 5800 rpm, this engine should help the TT RS bolt from 0 to 100 km/h in 3.7 seconds. In addition, it dishes out its power to all four wheels through a seven-speed, dual-clutch gearbox.
Not only did the engineers of the Quattro GmbH division, responsible for the brand's RS models, create this engine, they also revised the car's steering to make it more precise and tweaked the suspension to lower the car's centre of gravity. Audi's adjustable suspension will be offered as an option, as will ceramic composite brakes up front. The TT RS' nose was redesigned to optimise engine cooling, and the car is equipped with a fixed rear wing.
The Audi TT RS should arrive on our shores sometime in 2017 as a 2018 model. Our detailed report of our first drive of the most potent TT will follow later this week.