2017 Infiniti Q60: Resurrection of the Sport Coupe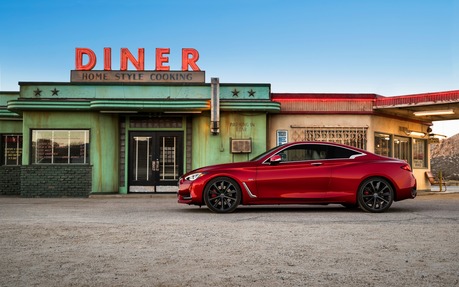 True, Infiniti isn't returning to the sport coupe market, because the brand never really left it to begin with. Let's just say that they've got a more serious contender now.
The G37 Coupe wasn't a bad car, but when its name was changed to become the Q60, it was already starting to age. And in an industry where is everything is moving a rapid pace, wrinkles on a car is all it takes for it to be relegated to the bottom of a potential buyer's shopping list.
Gladly, there's a brand-new Q60! From what we know, it's essentially a two-door version of the Q50 sedan, but we're told its driving dynamics have been reworked.
From a powertrain standpoint, all versions of the 2017 Infiniti Q60 are equipped with all-wheel drive, and three engines will be available, just like in the Q50. There's a turbocharged, 2.0-litre four that develops 208 horsepower, a twin-turbo, 3.0-litre V6 that belts out 300 hp and the same engine in Red Sport guide that yields 400 hp.
It should be interesting, especially if we can get out hands on the most powerful version at the press launch we're heading to this week.
Apart from its usual German rivals, the Q60 must confront the Lexus RC F, which is more powerful. But hey, all is not lost for the Q60, since the Q50 boasts many interesting qualities that should also be baked into the coupe. The Q60 could very well shake things up in its category. Stay tuned.